UTSA senior Leticia Allen named Roadrunner of the Month for October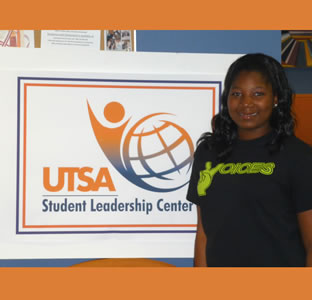 Share this Story
(Nov. 8, 2010)--The UTSA Student Leadership Center announces Leticia Allen as Roadrunner of the Month for October 2010. Allen was nominated by Jennifer Rames, UTSA assistant director of volunteer services.
A senior studying community health, Allen is from Killeen, Texas, where she graduated from C.E. Ellison High School. After completing her bachelor's degree, Allen plans to pursue a master's degree in public health. Leticia would like to be a sexual health educator in schools and within the community.
"To me, leadership means basically being the best you, no matter what," said Allen. "It also means that you are passionate about your goals and aspirations."
As president of the student organization VOICES (Volunteer Organization Involving Community Education and Service), Allen has been an excellent example of leadership at UTSA. Last year, she coordinated three alternative spring break trips, more than any previous year. The trips took students to volunteer their services in Amarillo, New Orleans and San Antonio.
According to Rames, "Leticia leads VOICES by example, regularly participating in volunteer projects in the community. She is a true example of leading through serving by earning over 320 community service hours during her involvement with VOICES."
Allen also works in the Office of International Programs, sings with the Victory in Praise Gospel Choir and serves on the board of the Inclusion and Community Engagement Center.
------------------------------
The Roadrunner of the Month award is sponsored by the Student Leadership Center to recognize outstanding UTSA student leadership contributions.
Nominees must meet these criteria to be considered for the award:
Must be a full-time UTSA undergraduate or graduate student
Must have a cumulative grade point average of 2.5 or higher at the time of nomination
Must have demonstrated excellence in leadership above and beyond typical expectations
Nominations should be for actions that positively impact the UTSA community
Submit nominations at the UTSA Student Leadership Center website.