UTSA screens award-winning documentary on language education Nov. 19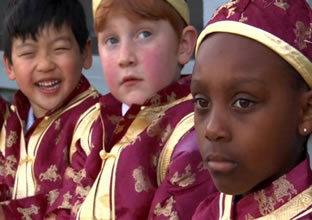 Share this Story
(Nov. 15, 2010)--As part of International Education Week, the UTSA Department of Bicultural-Bilingual Studies in the College of Education and Human Development and the UTSA East Asia Institute will host a free screening of the 60-minute, award-winning documentary "Speaking in Tongues" at 6:30 p.m., Friday, Nov. 19 in Main Building Room 0.206 on the UTSA Main Campus.
Before the screening, there will be an information fair at 6 p.m. featuring San Antonio groups that offer community-based, language-learning programs in many languages. Following the screening, there will be a panel discussion on language education led by Wayne Wright, UTSA associate professor of bicultural-bilingual studies, and featuring Mimi Yu, associate director of the UTSA East Asia Institute, and Maryellen Garcia, UTSA professor of Spanish. The panel moderator will be Peter Sayer, UTSA assistant professor of bicultural-bilingual studies.
"San Antonio is a multilingual and multicultural city with dozens of ethnic, community-based organizations that offer heritage language programs for young students in an effort to preserve their languages," said Wright, who is author of the book "Foundations for Teaching English Language Learners."
According to Wright, "Speaking in Tongues" depicts America's linguistic richness as one of its greatest strengths at a time when employers are searching for workers with multilingual skills and the federal government's security sector is pouring millions of dollars into teaching strategic languages."
The documentary follows four diverse students and their families as they encounter the challenges and delights of becoming fluent in two languages. The film focuses on language education, which has been a controversial issue for parents, educators and politicians for decades. In 2009, the documentary received the Audience Award Best Documentary Feature at the San Francisco International Film Festival.
------------------------------
The UTSA Department of Bicultural-Bilingual Studies offers a range of degree programs and is a leader in preparing researchers, educators and community leaders. It is home to an undergraduate program in Mexican-American Studies and graduate programs in bilingual education, bicultural studies and teaching English as a second language. The department's nationally recognized doctoral degree program in culture, literacy and language prepares researchers in the areas of Mexican-American and Latin cultures, bilingual literacy and education, and applied linguistics.
The UTSA East Asia Institute promotes appreciation and understanding of East Asian societies and cultures on campus and in the community through research, outreach, networking, education, student-faculty exchange, and business development and cooperation. The institute organizes seminars, workshops, lectures, conferences, film festivals and visual arts exhibitions as well as hosting performing art groups from China, Japan, Korea and other Asian nations. The institute encourages faculty research collaborations within UTSA and with participating East Asian university researchers.