Texas House Speaker Joe Straus confers with San Antonio business owners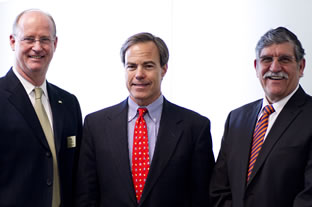 Share this Story
(Nov. 4, 2010)--The UTSA Institute for Economic Development hosted Joe Straus, speaker of the Texas House of Representatives, on Friday, Oct. 29 at the UTSA Downtown Campus for a roundtable discussion with more than 50 local small-business owners and business leaders.
UTSA President Ricardo Romo and Secretary of State Hope Andrade also particated in the dialogue that centered on concerns about the health of the Texas economy and ways the Legislature could help spur business growth. As state government faces significant budget challenges, Straus asked for input on issues to help small businesses grow and lead to an economic turnaround.
"Small business is the real economic driver in Texas," said Straus during his opening remarks to an audience that included representatives from the city's chambers of commerce, San Antonio Manufacturing Association and the National Federation of Independent Business.
"We are blessed with low taxes, fair regulations, an entrepreneurial spirit and the Texas value of self-reliance," Straus said. "The best thing that the government can do to grow our economy is to get out of the way."
The advice to Texas' legislative leaders ranged from keeping taxes low to the need for an educated workforce and improving access to capital. All agreed that despite the lingering national recession, Texas leads the country with a healthy and productive economy.
Concerns raised included the gross margins tax, which C.P.A. Johnny Lovejoy suggested should be based on small business profits and the ability to pay. InGenesis CEO Veronica Edwards stressed the need for skilled labor and health-care technician training. Clint Plant, owner of the E.P.M.P. sheet metal fabrication firm, voiced concerns about the current burdens placed on employers by the unemployment claims system.
ACCION Texas CEO Janie Barrera sought state support for microloans, and other panelists expressed the need for more bank lending and state incentives to fund high-growth local businesses, along with attracting out-of-state corporations to Texas.
"Small business is big business in Texas," said Andrade, who was a successful small business entrepreneur for more than three decades.
"State policies can make a huge difference for small-business success," said Robert McKinley, associate vice president of the UTSA Institute for Economic Development. "We are pleased we could host this roundtable discussion to bring together important voices in the small-business and legislative communities."
UTSA's business development programs provided consulting, training and research for 32,000 small and medium-sized businesses last year across South Texas, assisting them access $112 million in growth capital and expand revenues by $685 million, leading to the creation of 3,200 new jobs.