UTSA Libraries hosts author-artist-storyteller lecture on crafting family legacy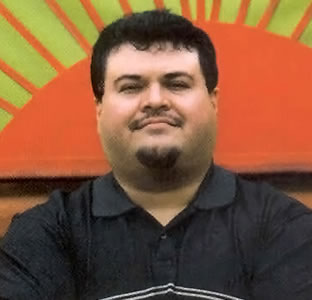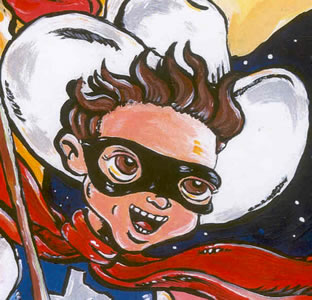 Share this Story
(Nov. 4, 2010)--Author, artist and storyteller Xavier Garza, M.A. '07, will speak on "Telling Your Stories: Crafting Family Legacies Through Writing and Art" from 6 to 7 p.m., Tuesday, Nov. 9 at the new John Peace Library writing center on the second floor. The event is free and open to the public.
Garza will discuss the creative process behind great storytelling with an emphasis on how writing and art can provide a vehicle for the young and young-at-heart to explore and preserve their own heritage. He also will read from his latest book, "Kid Cyclone Fights the Devil and Other Stories" (Pinata Books, 2010).
Garza's work focuses primarily on his experiences growing up in the small border town of Rio Grande City, Texas. He has written and illustrated several bilingual books for young people including "Lucha Libre: The Man in the Silver Mask" (Americas Award commended title), "Zulema and the Witch Owl," "Charro Claus and the Tejas Kid" and "Creepy Creatures and Other Cucuys."
Garza's personal papers reside in and are available through the UTSA Libraries Special Collections. A number of his illustrations are included in the UTSA Art Collection, and a selection will be on display at the event.
The event will be in a newly renovated wing of the JPL second floor, now home to the Judith G. Gardner Center for Writing Excellence and two units of the Tomas Rivera Center for Student Success -- Supplemental Instruction and Tutoring Services. The wing represents one more milestone in the library's three-year renovation project, continuing its transformation into a 21st century library befitting an emerging premier public research university. This event honors the integration of the three key academic support programs into the library, creating a one-stop shop for student learning engagement.
The event is sponsored by the UTSA Libraries, Tomas Rivera Center for Student Success, Judith G. Gardner Center for Writing Excellence and College of Education and Human Development.
------------------------------
For more information, contact Anne Peters at 210-458-4863.
------------------------------
UTSA Libraries
The UTSA Libraries are at an exciting point in their history with new leadership, a forward-thinking vision and major renovation project underway. The libraries include the John Peace Library on the Main Campus, the Downtown Campus Library and the UTSA Special Collections at the Institute of Texan Cultures on the HemisFair Park Campus.
The John Peace Library in the midst of a three-year renovation informed by fresh thinking on collection management and student intellectual engagement. In support of UTSA's goal of becoming a Tier One public research university, UTSA Libraries seek to achieve Association of Research Libraries status within the next decade.