Two Veterans Day ceremonies will be presented Nov. 11 at UTSA Main Campus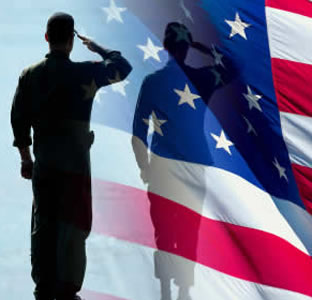 Share this Story
(Nov. 8, 2010)--The UTSA Army ROTC and Air Force ROTC will host a ceremony in observance of Veterans Day at 11 a.m., Thursday, Nov. 11 at the flag poles between the John Peace Library and the Arts Building on the Main Campus. Both military organizations will be involved with a color guard, reveille ceremony and speeches to honor our country's veterans.
Additionally, the UTSA Department of Music will host a Veteran's Day salute at 1:30 p.m., Thursday, Nov. 11 in the Arts Building Recital Hall on the UTSA Main Campus. Free and open to the public, the salute will include a photo slide presentation of UTSA employees who served in the military. The inaugural event will feature orchestral performances of patriotic music by UTSA students including "The Star Spangled Banner," "God Bless the USA," "Requieim for a Soldier" and an armed forces medley. The salute is dedicated to the memory of Cpl. Jorge Villareal Jr., a local Marine who lost his life last month in a roadside bomb explosion in Afghanistan. Villareal's wife, mother and sister will attend the concert. Brig. Gen. John Rollston will be the guest speaker.
According to the Texas Veterans Commission, UTSA has the most student veterans enrolled with educational benefits in the state with 1,604. UTSA has more than double the 695 student veterans enrolled at the University of Texas at Austin. Student veterans are known for their involvement in school organizations such as ROTC, giving them the opportunity to continue to serve while gaining an education. Cadets at UTSA have the advantage of seeing a more accurate glimpse of the military while they earn their commissions.
"Being a cadet in a military town, we have the benefit of being surrounded by prior service members who have served in real-life situations," said Ryan Vestil, Army ROTC cadet. "It's obvious why UTSA has such great ROTC programs."
The national ceremony will be at Arlington National Cemetery where President Obama will place a wreath at the Tomb of the Unknowns while "Taps" is played. Nov. 11 is celebrated as Remembrance Day or Armistice Day in countries around the world. The signing of the armistice by Germany in 1918 on the 11th hour, day and month gives the date its significance. The armistice signing formally ended World War I.
Both the Army ROTC and Air Force ROTC at UTSA are distinguished programs. Air Force Detachment 842 earned the title of best overall large unit in the nation by winning the AFROTC Right of Line Award. The Army ROTC Roadrunner Battalion is ranked fourth in its region where cadets compete with 36 other schools in the Southwest.
For more information, visit the Veterans Certification Office website or call 210-458-8000.