UTSA hosts World AIDS Day events Nov. 29-Dec. 1 at Main, Downtown campuses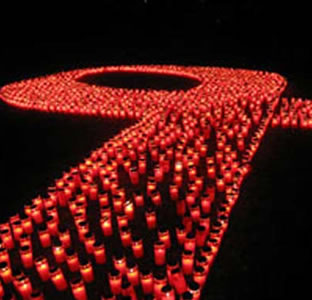 Share this Story
(Nov. 22, 2010)--UTSA Student Health Services and the student organization SHADES will host World AIDS Day events Monday, Nov. 29 through Wednesday, Dec. 1. Activities will include a documentary screening, open mike, free HIV testing, awareness expo, and performances by students and groups to show their dedication to stomping out HIV/AIDS.
World AIDS Day is an international awareness day that unites people from around the world to bring attention to the global HIV/AIDS epidemic. The theme for this year, Universal Access and Human Rights, presents a charge for us to guarantee access to all for HIV prevention, treatment, care and support -- all critical parts of human rights.
"There are a number of ways the UTSA community can support HIV/AIDS awareness," said Howaida Werfelli, UTSA health education coordinator. "We can raise awareness about sexually transmitted disease infection, increase knowledge and help our fellow Roadrunners become empowered to make safe and responsible decisions. Getting tested is always a good idea. It's better to know your status than not to know."
As part of World AIDS Day, UTSA Student Health Services will offer free HIV testing from 9:30 a.m. to 3 p.m., Wednesday, Dec. 1 at the University Center Denman Room (2.01.28) on the Main Campus and at Student Health Services in Buena Vista Street Building Room 1.308 on the Downtown Campus.
World AIDS Day at UTSA is sponsored by Student Health Services' SHADES peer education program. SHADES (Sexual Health, Alcohol and Drug Education for Students) is sponsored by the Minority Education Initiative (MEI). The MEI program is funded by federal support from SAMHSA Department of Health and Human Services through funding from McFarland and Associates Inc.
For more information, contact Howaida Werfelli at 210-458-6810.
----------------------------
UTSA World AIDS Day activities
Monday, Nov. 29
Main Campus
Movie screening: Travie McCoy's "The Unbeaten Track" -- free popcorn, free admission, University Center Retama Auditorium (2.02.02), 7-9 p.m.
Tuesday, Nov. 30
Main Campus
Step Up to the Mike: World AIDS Day Open Mike -- University Center ski lounge, 7-9 p.m., featuring poets, musicians, bands, free food, refreshments, giveaways
Wednesday, Dec. 1
Main Campus
Red Aware -- Wear red all day to show your support for the fight against HIV/AIDS, free official SHADES WAD 2010 t-shirts
Free HIV Testing -- University Center Denman Room (2.01.28), 9 a.m.-3 p.m., free confidential testing, more info: 210-458-4142
World AIDS Day Expo -- University Center first floor adjacent to bookstore, 10:30 a.m.-3 p.m.
Step Toward Change -- University Center first floor adjacent to bookstore, 10:30 a.m.-3 p.m.. students and groups come together to perform for one cause, more info: Facebook.com/askSHADES
Downtown Campus
Interfaith Service -- UTSA Buena Vista Street Building, 6:30-9 p.m., 10 faiths and 25+ organizations invite you to an interfaith service of remembrance and hope
Free HIV Testing -- Student Health Services, Buena Vista Street Building Room 1.308, 9:30 a.m.-3 p.m., free confidential testing, for an appointment: 210-458-4142