Two UTSA research compliance coordinators earn prestigious CIP certification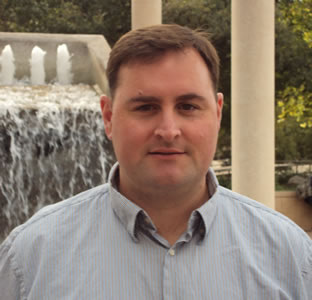 Share this Story
(Dec. 1, 2010)--The UTSA Office of the Senior Associate Vice President for Research Administration announced today UTSA research compliance coordinators Mike Matamoros '07 and Patrick Hickey have earned the prestigious CIP designation by completing the rigorous Certified Institutional Review Board Professional (CIP) process.
The voluntary certification program allows research professionals to demonstrate they possess the knowledge required to protect the rights and welfare of individuals participating in research studies and ensure those studies are conducted in compliance with government regulations.
The Institutional Review Board (IRB) manages oversight of UTSA research involving human subjects. The IRB develops, implements and monitors procedures to assure the university is compliant with federal, state and other regulations that safeguard the wellbeing of human research subjects. IRB professionals and policy makers committed to improving the quality of human research protection programs established the CIP program in 1999 as the result of a grassroots effort.
More than 1,300 individuals across the nation have been certified through the program administered by the Council for Certification of IRB Professionals. Certification culminates with a four-hour written test covering federal human research protections regulations, Food and Drug Administration regulations, ethical issues in research and research best practices.
"CIP certification came about to recognize the need for professionals working in institutional review boards, given the need for knowledge of research regulations for the protection of human subjects," said Judith Grant, UTSA director of research compliance and integrity. "For UTSA, an IRB [staff] with three CIP-certified professionals enhances the support and expertise we offer researchers working with human subjects and should increase the confidence of outside institutions collaborating with the UTSA IRB when conducting research."
Matamoros joined UTSA's IRB staff in May 2008 after working in the UTSA Graduate School and UTSA Department of Psychology as a reader/grader, research assistant and teaching assistant. He holds a master's degree from UTSA and a bachelor's degree in psychology from Texas State University at San Marcos.
Hickey joined UTSA in January 2010 from the State University of New York Update Medical University, where he was a research compliance coordinator for five years. At SUNY, Hickey and a colleague managed nearly 600 research studies exploring cancer treatments and new investigational drugs and devices. Before working at SUNY, Hickey was a research scientist for the U.S. Air Force Research Laboratory. He is a Trinity University graduate with a bachelor's degree in psychology.