UTSA subject matter experts celebrate National Employee Learning Week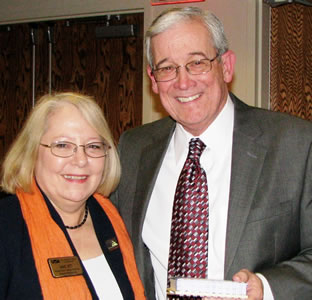 Share this Story
(Dec. 20, 2010)--UTSA subject matter experts gathered Wednesday, Dec. 8 at an event hosted by the UTSA HR Training and Development office to celebrate the American Society of Training and Development's National Employee Learning Week.
For the past several years, UTSA has celebrated National Employee Learning Week. This year, Training and Development hosted the subject matter experts at a reception in their honor. Kerry Kennedy, UTSA vice president for business affairs, delivered the keynote address to a group of more than 100. With food, prizes, networking and activities, there was information the experts could use in training classes to promote skill development and create a friendly learning environment.
Subject matter experts are individuals who convert their expertise in their areas of employment into classes for people who interact with their departments. For example, a Purchasing SME might teach a class to help employees learn about UTSA purchasing procedures.
More than 100 SMEs serve the UTSA community from departments across the campuses. In addition to their regular jobs, they take time to design and deliver courses to other UTSA employees in expert specialty areas. From safety to administrative systems, to emergency response and to research administration, the SMEs present in classrooms and help design online learning programs for hundreds of courses at UTSA.
National Employee Learning Week is an American Society of Training and Development initiative to bring attention to the essential requirement of continuous learning and development for business success. Training is voted as the number one retention factor for employees in surveys conducted year after year. Training and development is critical to succession planning, strategic planning and the attainment of organizational goals in every institution and company in America.
In recognition of Employee Learning Week, the San Antonio chapter of the American Society for Training and Development (ASTD), hosted a luncheon and presented a panel on Best Practices in Customer Service Learning and Development. UTSA Training and Development staff attended the luncheon along with five SMEs from UTSA, providing all with an opportunity to meet other training professionals and discuss best practices.
>> Please take a minute to thank a UTSA subject matter expert today for their voluntary commitment to UTSA learning needs. Find a list of UTSA SMEs at the Training and Development website.
>> Make it a point to make learning a part of your personal strategy for improvement by attending some of the several hundred classes provided each year for UTSA faculty and staff. View a list of current classes on the UTSA HR Training and Development website.
For more information, contact UTSA HR Training and Development at 210-458-4658.
--------------------
This story was co-written by Anne Jett, associate director of training and development, Diane Pina, training and development specialist, and Judy Verdon, training and development specialist.