UTSA students granted record number of Gilman international scholarships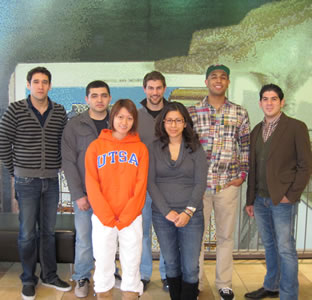 Share this Story
(Dec. 10, 2010)--Seven UTSA students will become world travelers next semester with the help of the nationally competitive Benjamin A. Gilman International Scholarship program.
"We are thrilled that so many of our students were selected," said Holly Hill, director of education abroad services in the UTSA Office of International Programs. "These students are a cross-section of the type of student who goes abroad. They are not super rich; some are traditional undergraduates, some not. But, all of them understand the value of gaining experience studying in a foreign country, however, and they worked hard to make it happen."
"This is the first time UTSA has had seven winners in one semester, which tied UT Austin for most recipients by Texas universities in this round of awards," said Kim Diehl de Yanes, program coordinator of education abroad services.
Hill and Diehl de Yanes assisted 18 UTSA students with applications for the Gilman program, the most ever submitted in one semester by UTSA students. The Gilman scholarship program is open to undergraduate students who are U.S. citizens, receiving federal Pell grants and planning to study abroad.
The winners include:
Virgilio Aguilar, Laredo senior, architecture major, participating in UTSA architecture program in Italy, $3,500
Maria Apreza, Houston senior, criminal justice and political science major, attending University of Salamanca, Spain, $4,000
Kevin Jones, San Antonio junior, math major, attending Mahidol University, Thailand, $5,000
Caleb Pendleton, San Antonio senior, business information systems major, attending Keele University, United Kingdom, $4,000
Gaston Sanchez-Elguezabal, Eagle Pass junior, business accounting major, attending Tsinighua University, China, $4,000
Alfredo Tiznado, Laredo senior, architecture major, participating in UTSA architecture program in Italy, $3,500
Kathleen Tran, Houston junior, communication major, participating in exchange program in Nagoya, Japan, $3,000
Students who apply for the Gilman scholarship are encouraged to choose non-traditional study abroad destinations, especially those outside Western Europe, Australia and New Zealand.
Kevin Jones will do just that. He plans to spend his time in Bangkok, not only learning, but also experiencing life in another culture. "I definitely have to ride an elephant," said Jones with a laugh. "I just want to learn a lot about the culture; it's why I chose that place. I've been fascinated by Asian cultures."
This scholarship supports students who traditionally have been under-represented in study abroad including but not limited to students with high financial need, community college students, students in under-represented fields such as the sciences and engineering, students with diverse ethnic backgrounds and students with disabilities.
Caleb Pendleton, a non-traditional student, didn't let any obstacle stop him from his plans to study in England. Pendleton will bring his wife and newborn child on his study abroad experience, studying information systems at Keele University. Because the program with Keele is a direct exchange for course credits, Pendleton will stay on track to graduate from UTSA on time. "It is the only opportunity we will have to go, to travel abroad," Pendleton said.
Maria Apreza wasn't certain she would qualify, but decided to apply. "I find it hard to believe that I was awarded the Gilman scholarship," she said. "Initially, I wasn't planning on applying, but Holly convinced me otherwise. Winning this award would not have been possible if it wasn't for the feedback and encouragement that I received from Kim and Holly."
Award recipients are chosen in a competitive process and must use the award to defray costs including program tuition, room and board, books, local transportation, insurance and airfare. Students must apply to or be accepted into a study abroad program eligible for credit by the student's accredited institution of higher education in the United States and study abroad for a minimum of four weeks in one country. Programs going to more than one country are eligible if the student will study in one country for at least four consecutive weeks.