UTSA biologist tapped to analyze Gulf Coast biodiversity following oil spill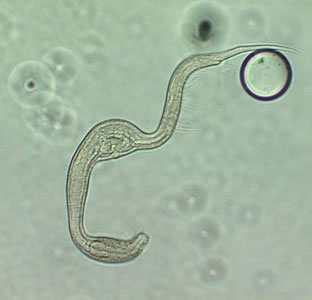 Share this Story
(Dec. 23, 2010)--By looking at the variation and density of microscopic organisms prevalent in the Gulf of Mexico, UTSA Department of Biology Research Assistant Professor Jyotsna Sharma-Srinivasan and her collaborators expect to determine how well sub-surface recovery efforts are faring following the Deepwater Horizon oil spill on April 20.
The one-year research project, "RAPID: Taxonomic and Metagenetic Test of Species Distributions for Marine Meiofauna from the Gulf of Mexico," led by the University of New Hampshire and conducted in collaboration with Auburn University, is supported by a $200,000 grant from the National Science Foundation RAPID program, which funds time-sensitive, post-disaster research.
"If people look at the Gulf waters and see no oil on the surface, they often conclude the area has recovered to its original state, but that often is not the case," said Sharma-Srinivasan. "The oil sinks below the sediment and may affect the entire ecosystem. By studying the biodiversity present in Gulf Coast waters and comparing it with samples taken prior to the oil spill, we will have a better understanding of how the spill has affected the marine ecosystem."
Sharma-Srinivasan will study the prevalence of nematodes found in Gulf waters. Nematodes are microscopic roundworms that live in sediments and play a vital role in the ecosystem. They contribute to the decomposition process by eating bacteria and decaying matter and by introducing carbon and other minerals back into the food chain. When stirred up from the mud, they also may serve as food for shrimp, fish and other ocean dwellers.
Before the Gulf Coast oil spill, Sharma-Srinivasans research team obtained samples from more than 100 intertidal and deep water locations in the Gulf of Mexico and found more than 100 species of nematodes. Researchers at the University of New Hampshire and Auburn University in conjunction with Sharma-Srinivasan will compare the diversity of nematode populations in samples from areas affected by the spill with samples taken from unaffected areas to have a better understanding of the ecological impact of the spill.
Sharma-Srinivasan earned her doctoral degree in marine biology from the University of Ghent in Belgium. She joined the UTSA Department of Biology in 1983 and has taught biology at UTSA since 1995. Her experience includes marine research projects in British Columbia, the North Sea, the Arctic Ocean and the Caspian Sea and 10 years of research on the Gulf Coast.