For the holidays: 'Buffalo Soldiers' and 'Play!' at Institute of Texan Cultures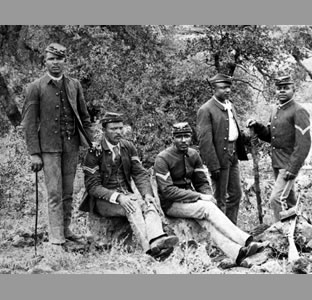 Share this Story
(Dec. 16, 2010)--As time runs out to visit the Buffalo Soldiers and Play! exhibits at the Institute of Texan Cultures, the winter holidays are an excellent time to come in and take a look.
"Buffalo Soldiers: Discovering Heritage on the Texas Frontier" runs through Monday, Jan. 3. The exhibit tells the story of historic African-American cavalry units assigned to Texas in the 1860s and 1870s.
The army offered an opportunity for African-Americans to improve their station in life. It was a chance to receive fair pay, education and other skills, which would continue to serve them after their tours of duty. Some buffalo soldiers remained in Texas after their military service, becoming members of the cultural landscape. They started families that remain in the state to this day. The exhibit explores the remarkable stories of these individuals and the legacies rediscovered by descendents generations later.
"Play!" runs through Sunday, Jan. 9. Designed to allow families, school groups and business professionals to explore how people connect socially through play, the exhibit employs larger-than-life games that invite visitors to become part of the experience. Participants can explore firsthand, social dynamics such as friendship, collaboration, teamwork and empathy.
"Play!" incorporates six all-body interactive games: bowling, billiards, dice, backgammon, foosball and dominoes. The game sets integrate art, music and video to create immersive, hands-on experiences visitors discover individually or with others. Each activity is guided by a bilingual narrative explaining the social sciences at work by highlighting interpersonal exchanges that influence culture and generations.
"Play!" was developed by Mexico City artist and composer Nacho Rodriguez Bach and San Antonio's Evergreen Exhibitions.
----------------------------
Holiday hours at the UTSA Institute of Texan Cultures
December 24-25: Closed
December 26: Noon-5 p.m.
December 27-30: 9 a.m.-5 p.m.
December 31: 9 a.m.-3 p.m.
January 1: Closed
January 2: Noon-5 p.m. (Resuming normal hours)
----------------------------
The Institute of Texan Cultures is on the UTSA HemisFair Park Campus, 801 E. Durango Blvd., a short distance from the Alamo and the River Walk. Regular hours are 9 a.m.-5 p.m., Monday-Saturday; noon-5 p.m., Sunday. Admission is $8 for adults (ages 12-64); $7 for seniors (ages 65+); $6 for children (ages 3-11); free with membership, UTSA or Alamo Colleges identification. For more information, call 210-458-2300.