UTSA co-hosts Neo-Mexicanism exhibit with 1980s art challenging notions of identity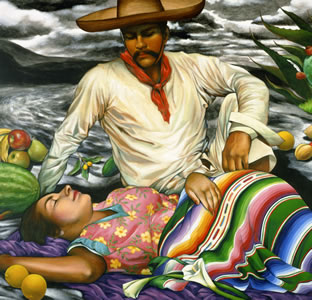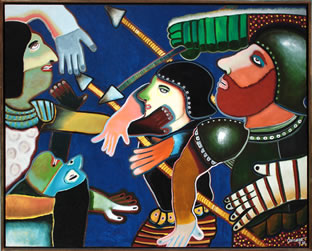 Share this Story
(Dec. 6, 2010)--The Instituto Cultural de Mexico will host the exhibit "Neo-Mexicanism, A New Figuration: Mexican Art of the 1980s" through Feb. 22 at the Instituto Cultural de Mexico, 600 HemisFair Park. The exhibit is sponsored by the UTSA Mexico Center, UTSA Department of Art and Art History, Secretaria de Relaciones Exteriores, Instituto Cultural de Mexico, Texas Commission on the Arts and SA Arts.
The 33-piece exhibit features the works of 12 Mexican artists and is comprised of art pieces from public and private collections throughout Mexico, California and New York representative of the Neo-Mexicanist art movement of the 1980s.
According to Teresa Eckmann, UTSA assistant professor of Latin American art history and curator of the exhibition, "Neo-Mexicanism is defined as a style, a current, and a tendency within Mexican figurative painting that incorporates, recycles or reinterprets iconographic content specifically referential to Mexican culture for the purpose of questioning fixed points of view and illuminating aspects of a syncretic, contemporary reality."
Syncretism is a fusion of differing philosophical or religious beliefs.
Eckmann believes viewers will be taken in by the traditional Mexican symbols they recognize and surprised by the artistic twists on imagery. Familiar icons include the Virgin of Guadalupe, Benito Juarez, Zapatistas and images from the Loteria.
"It took tremendous effort to get these works into the United States, and I think it's a unique exhibit that will probably never be seen again on this side of the border," said Eckmann. "The works address identity and contain subtle and sometimes not-so-subtle layers of irony and sarcasm that challenge these fixed notions of identity."
Eckmann worked two years on the project and enlisted the assistance of graduate students to conduct research and provide object labels with descriptions of the artwork. The exhibit is related to a forthcoming book she authored on the Neo-Mexicanist art movement to be published by the University of New Mexico Press.
Featured artists include Alejandro Arango, Monica Castillo, Javier de la Garza, Julio Galan, Enrique Guzman, Rocio Maldonado, Dulce Maria Nunez, Georgina Quintana, Eloy Tarcisio, Ruben Ortiz Torres, German Venegas and Nahum B. Zenil.
Additionally, recent bodies of work by Maldonado and de la Garza are concurrently on view in the institute's Salas David Alfaro Siqueiros and Diego Rivera.
Instituto Cultural de Mexico gallery hours are 10 a.m.-5 p.m., Tuesday-Friday, and 11 a.m.- 5 p.m., Saturday and Sunday.
For more information, call 210-227-0123 or e-mail infoicm@saculturamexico.org.