City survey results in traffic signal adjustments, reduced travel time to UTSA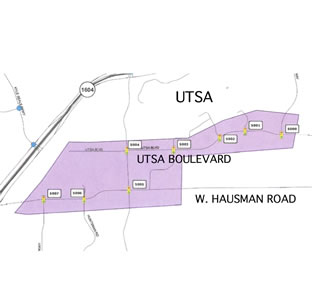 Share this Story
(Dec. 10, 2010)--A survey conducted for the City of San Antonio by Kimley-Horn Associates resulted in traffic signal timing adjustments and reduced travel times at eight intersections near the UTSA Main Campus.
Based on the final report released last summer, signal timing adjustments completed on UTSA Boulevard from Roadrunner Way to Valero Way resulted in travel time reductions up to 26 percent. The timing adjustments also will result in estimated collective savings of $400 per weekday or $100,000 annually, based on 1.2 average vehicle occupancy.
Surveys were done before and after the timing adjustments in morning peak, noon and evening peak periods analyzing eastbound and westbound traffic. UTSA Boulevard signal timing adjustments decreased travel time 11 percent during morning peak, 26 percent during the noon period and 6 percent during afternoon peak.
Based on the survey, traffic signal timing was optimized at eight intersections:
UTSA Boulevard and Valero Way
James Bauerle Drive and UTSA Boulevard
Edward Ximenes Avenue and UTSA Boulevard
Roadrunner Way and UTSA Boulevard
Babcock Road and UTSA Boulevard/UTSA Drive
Babcock Road and Hausman Road
Hausman Road and Huntsman Road
Hausman Road and Kyle Seale Parkway
During the morning peak at the Babcock and Hausman intersections, overall travel times were reduced. During the morning peak, a 28-second travel-time increase in lighter westbound traffic was more than offset by a 75-second travel-time decrease in heavier eastbound traffic. Conversely, during the afternoon peak, a 40-second increase in westbound travel time was offset by a 74-second decrease in eastbound travel time.
Before the timing adjustments, the four intersections along UTSA Boulevard (not including the Babcock intersection) ran in coordinated (interconnected and sequenced) mode during morning and afternoon peaks on a 120-second cycle. The three intersections along Hausman also ran in coordinated mode in the same periods on a 140-second cycle. At all other times, however, those seven intersections ran in free mode. The Babcock and UTSA Boulevard intersection ran in free mode at all times. "Free mode" indicates a signal is timed, but also has demand sensors (push-to-walk buttons and pavement sensors) to activate light changes.
In consideration of the survey results, all eight intersections now are on free mode from approximately 6:15 p.m. to 7 a.m. on weekdays and 6:15 p.m. to noon on Saturday and Sunday. At peak times, timing is adjusted to facilitate faster traffic flow.
According to the study, traffic at the eight intersections is above roadway capacity with Babcock at Hausman designated the most critical area. The study recommends upgrading both roadways to two lanes per direction with either four-lane divided or five-lane undivided intersections.
As an interim measure, the study recommends adding left-turn lanes at three intersections (listed in priority order):
Eastbound and westbound on Hausman at Babcock
Northbound and southbound on Babcock at UTSA Boulevard
Eastbound and westbound on Hausman at Huntsman
For more information, contact Robert Hudson, lieutenant in the UTSA Police Department, at 210-458-4421.