New sports court at UTSA Downtown Campus to open Thursday, Jan. 20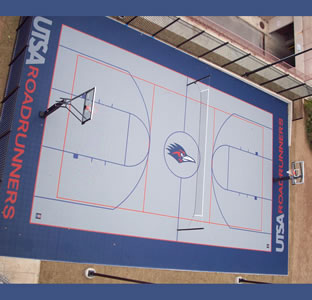 Share this Story
(Jan. 19, 2011)--The basketballs are ready to be handed out and the ballers are ready to step to the paint when the new sports court opens at the UTSA Downtown Campus.
Jesse Zapata, UTSA vice provost for the Downtown Campus, will make the first two-point shot, and maybe even a three-point shot, during the official opening of the sports court at 3:30 p.m., Thursday, Jan. 20. The court is on the former grassy area between the Durango and Frio Street buildings and will be used for recreational basketball and volleyball as well as official games and tournaments.
"I think that the sports court is a good example of our efforts to provide students with a well rounded experience at the Downtown Campus," said Zapata. "We provide excellent educational experiences, but we are always striving to offer students opportunities for involvement in activities outside of the classroom. The sports court will be an additional opportunity for students who use it to feel connected to UTSA."
The lighted court will be available free for UTSA students, faculty and staff. Participants can use the court at any time and provide their own equipment, but Campus Rec personnel will be available to provide UTSA equipment from 9 a.m. to 9 p.m., Monday-Thursday; 9 a.m.-7 p.m., Friday; and 11 a.m.-2 p.m., Saturday.
"Students, faculty and staff can schedule court time using our current policies and procedures for court reservations listed on the UTSA Campus Recreation website," said Rudy Mendez, campus recreation program coordinator at the UTSA Downtown Campus. The site also has information on forming or joining teams as well as rules and regulations for game time.
To check out equipment for the sports court or take part in other recreational activities at the Downtown Campus, visit the recreation center in Durango Building Room 3.302 or Room 3.202.
For more information about the sports court or upcoming recreation plans at the Downtown Campus, e-mail Rudy Mendez.