East Parking Garage construction on UTSA Main Campus will begin in March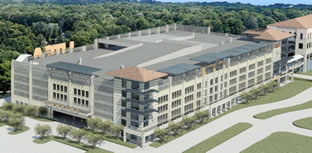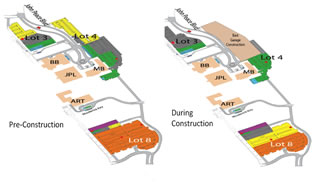 Share this Story
(Jan. 19, 2011)--Construction will begin in March on the 1,200-space East Parking Garage on the UTSA Main Campus. The new facility will be built on a portion of parking lot 4 near the Main Building with construction continuing through summer 2012.
Currently, there are approximately 600 parking spaces in lot 4. Upon completion of the project, there will be approximately 225 surface spaces in lot 4, in addition to the 1,200 parking spaces in the garage. Permits to park in the new garage will be available to students, faculty and staff starting in fall 2012. On completion of the new garage, students will be able to park near the Main Building during the day with the appropriate permit.
"Once the construction fence is placed, we encourage everyone to be mindful that arriving early and knowing alternate routes and parking options are essential," said Shelley Deats, UTSA assistant director of parking services. "We thank you for your patience and support during this project."
>> See where faculty, staff and student parking spaces will be located beginning in March, along with additional information on the project at the UTSA East Parking Garage website.
For more information, call 210-458-7275.