Hey, Roadrunners: UTSA Homecoming and Family Week 2011 is Feb. 3-5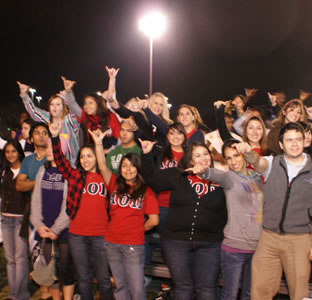 Share this Story
(Jan. 25, 2011)--Get ready to wear your orange and blue -- it's time to show us your Roadrunner! Mark your calendars for Feb. 3-5 and join the entire UTSA community in celebrating Homecoming 2011. The theme this year is "Tradition - Spirit - Pride." This will be the school's last spring Homecoming celebration. Homecoming events will move to the fall to coincide with UTSA football beginning in September.
>> For the full slate of events, visit the UTSA Homecoming and Family Weekend 2011 website.
The website is live and will be continuously updated with important information about Homecoming. Homecoming festivities begin Thursday, Feb. 3 with the "Where's Rowdy?" contest on the Main Campus. It will be followed by the Decorating Party for the Homecoming Golf Cart Parade at 8 p.m. at the Convocation Center portico.
On Friday, Feb. 4, make plans to attend the Golf Cart Parade and Rowdy Rampage Fireworks Spectacular. The night event combines a spirit rally, concert, fireworks show and the Homecoming Golf Cart Parade -- all in one at the UTSA track adjacent to the Recreation and Wellness Center, Main Campus. This will be the 18th Annual Golf Cart Parade and the 7th Annual Rowdy Rampage Fireworks Spectacular.
There will be music by Starlume from Nashville, Tenn., to start the evening and after the fireworks. Starlume has gained recognition after landing a song from their "Get Found EP" on the CW's "One Tree Hill" ("So Please"). The band draws its influences from four decades of music with a lot of melody. They have had music licensed for use on several TV networks including MTV, E! and VH1.
Filled with tastefully epic drums, throwback bass lines, smooth vocals and contagious melodies, their music will be the perfect fit for a UTSA Homecoming celebration. And, the event is suitable for the entire family.
The Saturday, Feb. 5 events will begin with "Roadrunner Remembrance," an annual program that allows the community to remember the members who passed away last year.
There will be a Homecoming Luncheon in the University Center Ballroom on Saturday afternoon. The day will end with the Tailgate Party, the Homecoming men's basketball game and the After-Hours Party. The homecoming game will be against the Lamar University Cardinals.
Stop by the University Center information desk on the Main Campus or the Office of Student Activities at the Downtown Campus to buy a commemorative UTSA Homecoming 2011 t-shirt -- and get ready to support the Roadrunners!