UTSA Homecoming 2011 poster design contest winners are announced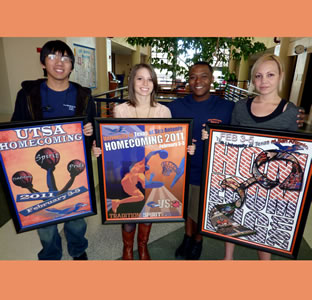 Share this Story
(Jan. 25, 2011)--Winners of the 2011 Homecoming Art Contest were announced Tuesday, Jan. 18 in the University Center Retama Auditorium galleria. Derek Bell from the Student Homecoming Committee was on hand to give out the prizes. Rachel Paver claimed first place with her submission "Dunk It UTSA." Justin Constantino was awarded second place for his design "Speedy Victory." Third place was awarded to Pallas Aidinian for her entry "Tradition-Spirit-Pride."
Each artist received a trophy and cash prize. First place was awarded $250, second place $100 and third place $50. The first- and second-place poster designs will be displayed in the University Center. The third-place poster design will be auctioned at the UTSA Alumni Gala in support of student scholarships.
Rachel Paver is a junior architecture major. She plans to graduate in May and then attend graduate school to pursue a license as a professional architect. She served as an officer of the American Institute of Architecture Students (AIAS). She also participated in rebuilding the Lower Ninth Ward (hurricane relief) in New Orleans through Historic Green.
"I hope to use architecture in a way that will make our living habits more efficient for the future and the environment," said Paver. "Design has always been a passion of mine, whether it is designing a building, playing music or drawing a picture."
Justin Constantino is a mechanical engineering major with minors in biology and music. He was born in Nutley, N.J. He plans to become a biomedical engineer after he receives his doctorate. Additionally, Constantino is in the MBRS/RISE program, in which he is able to gain experience in research and the opportunity to participate in biomedical research conferences. Constantino said he was very excited to participate in the poster competition.
Pallas Aidinian is a senior anthropology major and intends to go to graduate school to focus on paleoanthropology and primatology. Originally, she is from Santa Monica, Calif. Aidinian enjoys working in Photoshop as one of her hobbies. She has many interests that include do-it-yourself projects, "random acts of kindness," wildlife and marine conservation, sustainability science, and her cats Charlie 5, Punkin and Picnic.
------------------------------
UTSA Homecoming 2011 is Feb. 3-5. The Homecoming men's basketball game will be Saturday, Feb. 5 against the Lamar University Cardinals. The Homecoming 2011 theme is "Tradition-Spirit-Pride."
Homecoming 2011 t-shirts are available in a range of sizes for only $5 at the University Center information desk at the Main Campus and the Durango Building information center at the Downtown Campus. Read details on UTSA Today.