Help promote a greener UTSA: Recyclemania runs Jan. 23-April 2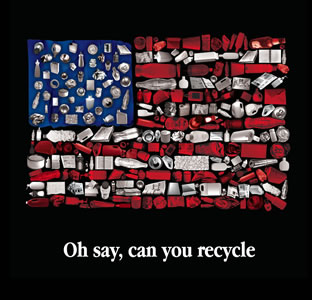 Share this Story
(Jan. 18, 2011)--You can be a Recyclemaniac!
UTSA Business Auxiliary Services and Aramark dining services already are major partners in UTSA recycling efforts, and faculty, staff and students across the Tri-campuses can help by joining in Recyclemania, which runs Jan. 23-April 2. Sponsored by the Environmental Protection Agency, Recyclemania is a friendly competition between colleges and universities nationwide to promote waste reduction activities in their campus communities.
The Office of Environmental, Health, Safety and Risk Management (EHSRM) has managed the UTSA recycling program for six years. The program continues to evolve to meet the needs of the growing campus community. During fiscal years 2008-2010, recycling bins were placed across the UTSA campuses as part of the overall goal to minimize waste and increase recycled materials to an average of 115 tons per quarter by 2016. In fiscal year 2010, UTSA averaged more than 113 tons of recycled material per quarter, indicating we are well on our way to the goal. Recyclemania participation can help achieve this goal.
The blue recycling bins across the campuses are key to UTSA becoming a greener university. Plus, during January, UTSA community members will notice the green and yellow Abitibi recycling dumpsters being removed and replaced with 20 new purple dumpsters from Greenstar LLC Recycling, which will be a contracted partner for two years.
These materials are accepted for recycling at UTSA:
Corrugated cardboard
Printer ink cartridges
Mixed paper
Newspapers
Co-mingled plastic, glass and aluminum beverage containers
For more information, visit the UTSA Recycling website or call 210-458-5250.