UTSA presents exhibit of sculptures by former faculty member Steve Reynolds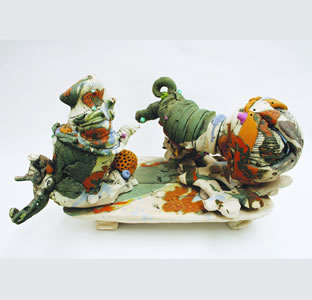 Share this Story
(Jan. 19, 2011)--The UTSA Department of Art and Art History will present an exhibit of the work of the late Steve Reynolds from Jan. 19 to Feb. 23 in the UTSA Art Gallery on the Main Campus. The exhibit, "Steve Reynolds: Serial Investigations in Sculpture," is an examination of the remarkable career of Steve Reynolds (1940-2007), an internationally admired artist especially well known for his tour-de-force explorations in sculpture and ceramics. The exhibit in the Arts Building gallery is free and open to the public.
An opening reception will be 6-8 p.m., Wednesday, Jan. 19 in the UTSA Art Gallery on the Main Campus. During the reception, free parking will be available in lot 13.
The exhibition presents examples from works produced in studios around the world and includes examples of the many private works, never before exhibited, that Reynolds made for his beloved wife, Daphne, when traveling to lecture and attend residencies, inspiring others in their creative endeavors.
In his 40-year career, Reynolds worked intuitively but also serially, methodically and systematically. He kept the strong belief that clay is a powerful artistic tool, but by no means the only one to be employed in the service of art. The many series range from large-scale wall pieces composed of figurative and abstract elements and sculptural totems to smaller sculptures that extend traditional vessel forms into fascinating explorations of ceramic materials, pigments, shapes, and textures. Sensitive clay gestures become delicate birds, energetic figures and wonderfully odd objects that are simply creative forms in their own right.
Curated over two years by the artist Catherine Lee during breaks from her own international schedule, the exhibition offers viewers a rare opportunity to examine how artists create individual works of art while thinking in broader terms of design elements within a series.
Reynolds was a UTSA professor of art for 28 years. He served on the board of the National Council on Education for the Ceramic Arts for 8 years and was president in 2001-2002. His commitment to national and international art communities was profound. A full-color catalogue accompanies the exhibition.
UTSA Art Gallery hours are 10 a.m.-4 p.m., Monday-Friday, 1-4 p.m., Saturday-Sunday, and by appointment.
For more information, contact Laura Crist at 210-458-4391.
------------------------------
Directions: The UTSA Art Gallery is in the Arts Building on the Main Campus, One UTSA Circle, San Antonio, Texas, 78249. From Interstate 10, take exit 557 to UTSA Boulevard. At the first traffic light, turn right onto Valero Drive. Turn left onto East Campus Drive and then make an immediate right into lot 13. Shuttle buses travel directly to the Arts Building. View a UTSA Main Campus map.