Update: UTSA cold weather announcement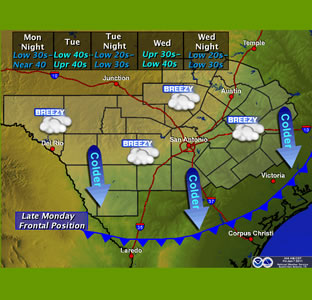 Share this Story
(Feb. 02, 2011)--Due to decreased temperatures and increased power usage, buildings on UTSA's campuses are cooler than expected this morning. In addition, UTSA has been advised that all customers on Texas' statewide power grid will be subject to 15-minute rolling black-outs this morning. The university will likely be affected. We thank you for your patience as we work through these issues.
As they continue to monitor the weather, the UTSA administration team always is mindful of the safety of the UTSA community, whether we are in an icy winter or the hurricane season.
Any time of year, whether there is excessive rain or ice, there are three venues through which the UTSA administration communicates the operational status of the university:
UTSA faculty, staff and students can call 210-458-SNOW (7669) at any time for information about the Tri-Campus community regarding the status of classes and employee work schedules. The extension can answer up to 138 calls at a time, but you may encounter a busy signal during peak usage.
In the advent of extreme weather, UTSA provides all area broadcast and print media outlets with the latest information in a timely manner. The university initially communicates with both WOAI Television and WOAI Radio.
------------------------------
FAQ: UTSA weather closures
When does UTSA determine whether or not to close the campuses due to adverse weather?
When adverse weather occurs during the night, UTSA administrators make a decision as soon as possible but generally by 5 a.m. regarding whether or not to close the UTSA campuses. Subsequently, University Communications staff members continually update the 458-SNOW message and websites, and contact media outlets.
At other universities, they continue to have classes regardless of snow or ice. What criteria are used to close UTSA?
UTSA is committed to making the best decision concerning the safety of students, faculty and staff. In San Antonio, even a small amount of ice might create an unsafe situation, considering that students and employees travel to the university from various distances. For example, weather in the Hill Country may not be the same as in southern portions of Bexar County.
What if my situation appears dangerous, and I cannot determine whether or not UTSA is closed?
Individuals are encouraged to make a prudent decision about traveling to campus in consideration of the weather in their area.