Four UTSA students present research at American Astronomical Society meeting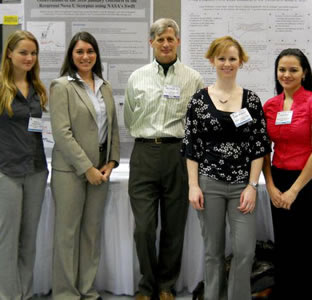 Share this Story
(Feb. 17, 2011)--Outer space got a lot closer when students from UTSA attended the winter meeting of the American Astronomical Society (AAS) in Seattle, Wash. Four undergraduate students, sponsored by a generous gift from a college supporter, traveled with Eric Schlegel, UTSA Vaughan Family Endowed Professor in Physics, to the conference, which ran Jan. 9-13.
In addition to attending talks from some of the field's most prominent researchers, the students presented posters of their own.
Laura Vega, a junior physics major, had experience presenting posters at smaller meetings during the fall semester, but this was her first trip to an AAS meeting. "It was amazing! I felt very honored being around the astronomy-astrophysics community," she said.
Her projects included analysis of x-rays coming off the outburst of a cataclysmic nuclear explosion of a white dwarf star, or nova. Vega used a computer program called XSPEC to incorporate the data recorded by NASA's Swift telescope into a model showing what happened during the outburst.
Fellow junior in physics Marilyn Moore was equally excited about the experience. Attending a national meeting was a huge boost in confidence and is inspiring her to find her own niche in the astrophysics research field. It was "the most amazing experience I could have asked for as a first-timer," she said.
Like Vega, Moore's research focused on what happens when a nova occurs. She used a combination of physics and math to analyze and evaluate the phenomenon, resulting in a fascinating look at how matter evolves, knowledge that will help scientists learn more about the cosmos and life on Earth.
An exciting part of the meeting for both the students and Schlegel was explaining their research to scientists whose own research the students have been following. "The big win for each was presenting their results to interested researchers like Craig Wheeler of UT Austin, Rob Fesen of Dartmouth, Paula Szkody of the University of Washington, and the list goes on," said Schlegel.
For Vega, Moore and their peers Estela Jordan and Laura McMaster, attending this meeting will likely inspire continued research at the undergraduate level and pursuit of graduate degrees in physics.
Moore recommends students get into research at the undergraduate level because "it provides [students] with a sense of confidence and experience that class work alone simply does not offer."
Schlegel agreed. "This is a big meeting for researchers in astronomy. It is a pleasure for me to be able to bring such bright young students and give them an opportunity to meet and greet the best in the fieldm" he said. "I'm so proud of the work they have done and presented in this arena."