UTSA and Joan Grona Gallery present exhibit of paintings by Ana Fernandez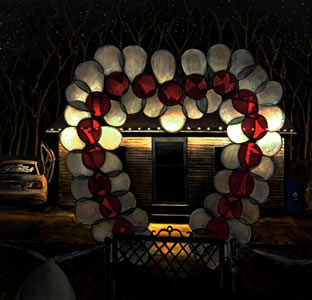 Share this Story
(Feb. 2, 2011)--UTSA and Joan Grona Contemporary Art will present the detailed, mystical paintings of Corpus Christi native Ana Fernandez this month at the Grona gallery.
>> Free and open to the public, the exhibit runs Feb. 3-26. An opening reception, free and open to all, is 6-9 p.m., Feb. 3 at Joan Grona Contemporary Art.
Curated by Arturo Almeida, art specialist and curator of the UTSA Art Collection, Fernandez' paintings capture everyday scenes in neighborhoods in Corpus Christi and San Antonio. Her work utilizes a realistic yet fantastical element and style that complements the quotidian yet magical culture of San Antonio.
According to the artist, the painting series features some of her favorite subjects including magic, true crime, paranormal activity, sex, murder, occult, mythology, witchcraft and superstition -- all set in her hometown of Corpus Christi. Her attention to detail will strike a familiar note with San Antonians and others from South Texas.
Born in Corpus Christi, Fernandez moved to San Antonio at age 16 with her family. She received an M.F.A. from UCLA and a B.F.A. from The School of the Art Institute of Chicago. She has presented numerous exhibits across the nation and currently lives in San Antonio.
------------------------------
Joan Grona Contemporary Art was established in 1992 and is in the nationally known Blue Star Arts Complex. Representing local, national and international artists, the gallery fosters an understanding and appreciation of art in a friendly environment through exhibitions, lectures and guided tours. The gallery collection includes a broad range of innovative, original artworks by established and emerging artists.
Joan Grona Contemporary Art is in Blue Star Arts Complex Suite 112 at South Alamo and Probandt streets in San Antonio's Southtown district. Gallery hours are noon-5 p.m., Tuesday; 11 a.m.-5 p.m., Wednesday-Friday; 11 a.m.-6 p.m., Saturday; and by appointment (call 210-225-6334).
------------------------------
>> Visit the UTSA Art Collection website.