UTSA education professors promote their new book on bilingual teaching preparation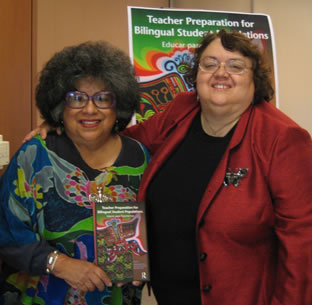 Share this Story
(Feb. 18, 2011)--The Academy for Teacher Excellence (ATE), located in the College of Education and Human Development (COEHD), recently hosted a book presentation and signing for the newly published education book "Teacher Preparation for Bilingual Student Populations: Educar para Transformar."
At the event in the UTSA Downtown Campus Durango Building, copies of the book were given away as door prizes. Copies are available for sale at the UTSA Bookstore.
A collaborative effort with work from 12 scholars in the field of education from across the nation, the book includes contributions from UTSA professors Belinda Flores, ATE founder and principal investigator, Ellen Riojas Clark and Rosa Hernandez Sheets.
In a rapidly increasing multicultural America, the book serves as a valuable resource for educators combining the expertise and experiences of the contributing authors. It critically examines the current state of bilingual education and ESL teacher preparation in the United States, while exploring possible solutions to major issues that negatively impact public schools, teachers and students.
ATE is joining the collaborative effort to promote the book as it shares many of the goals and messages. Flores and the ATE staff have worked to successfully promote effective bilingual education programs and assist beginning teachers to become effective and knowledgeable in their teaching methodology.
For more information, visit the UTSA Academy for Teacher Excellence website.