UTSA students, faculty, staff: Student Health Services reduces cost of flu shots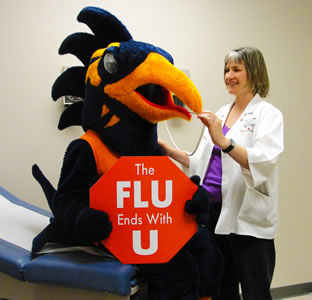 Share this Story
(Feb. 16, 2011)--UTSA Student Health Services has lowered the price of flu shots. The cost is now $3 for UTSA students and $5 for UTSA faculty and staff members. The supply is limited, so take advantage of the deal soon.
This year's vaccine is a combination of the seasonal flu and H1N1.
"We have seen a drastic increase of influenza cases over the last few weeks," said Beth Wichman, M.D., Student Health Services. "We expect to see more cases this month, especially since cooler weather is keeping us indoors. This increases the exposure risk for susceptible individuals."
Student Health Services accepts payment by UTSACard (with balance), MasterCard, Discover, American Express, Visa, cash or check. For identification, bring your UTSACard.
For more information, call the UTSA Main Campus clinic at 210-458-4142 or the UTSA Downtown Campus clinic at 210-458-2930, or visit the UTSA Student Health Services website.
-----------------------------
Tips for protecting against the flu
(from U.S. Centers for Disease Control and Prevention)
Cover your nose and mouth with a tissue when you cough or sneeze. Throw the tissue in the trash after you use it.
Wash your hands often with soap and water.
Use an alcohol-based hand rub.
Avoid close contact with sick people.
If you're sick with flu-like symptoms, stay home for at least 24 hours after your fever is gone. The fever should be gone without the use of fever-reducing medications.
While sick, stay away from others.
Avoid touching the eyes, nose and mouth.
Take flu antiviral drugs if your doctor prescribes them.