UTSA Honors College presents 'Great Conversation!' scholarship fundraiser Feb. 22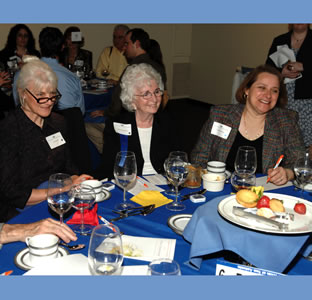 Share this Story
(Feb. 17, 2011)--The UTSA Honors College will host the 11th annual "Great Conversation!," a signature fundraising event that supports Honors College scholarships, at 6:30 p.m., Tuesday, Feb. 22 at the Institute of Texan Cultures. The evening will feature more than 35 tables with various discussion topics related to science, politics, leisure, education, business and the arts.
The Honors College relies heavily on the funds generated by the event to provide critical scholarship support for its students. Established in 2002, the college's current enrollment is nearly 800 students. The need for additional scholarship support is significant to remain competitive and retain Honors College students at UTSA.
Benjamin Barkley from Houston is one of many students who have benefited from the scholarships. Barkley interned at the Center for American Progress in Washington, D.C., as a UTSA Archer Fellow. He is an honors studies major, a major offered exclusively through the Honors College. Fluent in three languages and a member of the UTSA debate team, Barkley credits his achievements to the support he has received at UTSA.
"I feel that the Honors College provides me an opportunity to serve others and demonstrate a positive example of what it means to be a young college student," said Barkley.
Barkley currently is interning fulltime during the 82nd legislative session. He is assigned to Rep. Lois W. Kolkhorst, who serves Texas House District 13, which includes Austin, Grimes, Walker and Washington counties.
"Great Conversation!" began as a lecture series under the leadership of Harriett Romo, UTSA professor of sociology and director of the UTSA Mexico Center, and a small group of community members. After a few lectures, they decided to change the format, but kept the interesting topics and added interaction so that attendees could engage in the conversation and exchange thoughts, observations and ideas, all under the leadership of an expert.
Table conversation leaders this year will include Bexar County Judge Nelson Wolff speaking on the science of poker; Johnny Hernandez, chef and owner of La Gloria, leading discussion on the great street foods of Mexico; and JoAnn Boone, president of Rio San Antonio Cruises, leading discussion on how the River Walk contributes to San Antonio.
For more information or to sponsor an Honors College student or table at the event, call 210-458-4488 or visit the Great Conversation! website.