City hosts second HemisFair Park master plan public workshop Feb. 24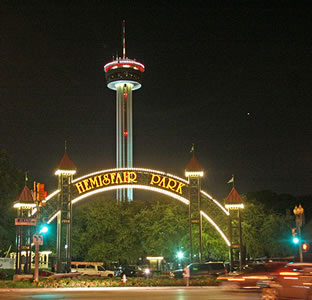 Share this Story
(Feb. 23, 2011)--The City of San Antonio HemisFair Park Area Redevelopment Corp. is seeking public input on the master planning process to re-envision HemisFair Park. The second of two public workshops is 5:30 p.m., Thursday, Feb. 24 at Sunset Station Depot 1 (and simulcast to Depot 3) in downtown San Antonio. The workshop is an opportunity for the community to share questions, concerns, comments and ideas regarding HemisFair Park.
>> Check-in for the public meeting will begin at 5:30 p.m. with the workshop from 6:30 to 8:30 p.m. Sunset Station Depot 1 is at 1174 E. Commerce St. For more information, call 210-785-0888.
The University of Texas at San Antonio is an anchor tenant in HemisFair Park. The park is bordered by Market Street to the north, Bowie Street and Interstate 37 to the east, Durango Boulevard to the south and Alamo Street to the west. The UTSA HemisFair Park Campus, home to the Institute of Texan Cultures, occupies the southeast corner of the property and now is involved in a master planning process similar to the city's.
At the first workshop on Jan. 12, nearly 300 citizens offered their perspectives as Lavaca neighborhood residents, students, professors, business owners, architects, elected officials, members of the arts and tourism communities, and other groups.
The purpose of the workshops is to develop goals and explore opportunities for the site with Johnson Fain, a consultant group hired by HPARC to conduct the latest master planning process. Johnson Fain has conducted interviews and focus groups with numerous stakeholders and will share their discoveries and observations to date.
UTSA officials have contributed directly to Johnson Fain's analysis of HemisFair Park. The university and the Institute of Texan Cultures are represented on the HPARC board by Sue Ann Pemberton, senior lecturer in the UTSA College of Architecture.
The HemisFair '68 world's fair exposition is commonly credited for launching the city's modern era, replete with tourism and commercial opportunities.Since the fair's closure, the grounds have remained mostly underutilized. In 2009, the city council voted for the creation of the redevelopment corporation. Its vision is to revitalize the area as a mixed-use development centered on a city park, incorporating the historic structures within and reconnecting it with the surrounding neighborhoods.