HSS Building renamed McKinney Humanities Building in honor of benefactor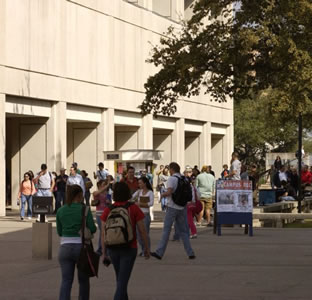 Share this Story
(Feb. 9, 2011)--Next semester, classes will not be available in the Humanities and Social Sciences Building on the UTSA Main Campus. The HSS, as it is commonly known, won't appear on campus maps, directories or anywhere else for that matter. That's because HSS now is called the McKinney Humanities Building in tribute to a former UTSA student, outstanding educator and UTSA benefactor.
"This is UTSA's gift to the memory of Miss Mary E. McKinney," said Marjie French, vice president for university advancement. "It is our way of recognizing the contributions she made during her lifetime and to acknowledge the gift she left UTSA students."
McKinney, who died November 2009, bequeathed more than $25 million to the university, the largest single private gift in university history, and one of the largest gifts to be given to a Texas university or college.
McKinney's portfolio included stocks and municipal bonds as well as 5,240 acres of ranch land in Frio and Atascosa counties. The land sits atop the Eagle Ford Shale, considered to be the most significant U.S. oilfield discovery in the last 40 years.
Described by many as the "gift that will keep on giving," McKinney's generous donation will be used to continue funding the Felix and Elizabeth McKinney Memorial Scholarship Fund, created by the benefactor in 1994 in honor of her parents.
"Thanks to the Felix and Elizabeth McKinney Memorial Scholarship Fund, countless UTSA students have received an education," said UTSA President Ricardo Romo. "Although Miss McKinney is no longer with us, her wonderful generosity will help even more students for decades to come. We couldn't think of a better way to honor her than to rename the HSS, where she attended classes."
The four-story HSS building was built in 1974 and is one of five buildings comprising the original campus. It houses the College of Liberal and Fine Arts, the largest college at UTSA, serving the entire UTSA community. From 1992 to 1996, McKinney attended classes in the HSS for post-graduate studies after teaching 25 years in public and private schools around San Antonio.
A formal renaming celebration will be scheduled for later this semester. In the meantime, all new printed materials will include the McKinney name and the MH building abbreviation.