UTSA presents Feb. 14 performance by international classical guitarist Ricardo Cobo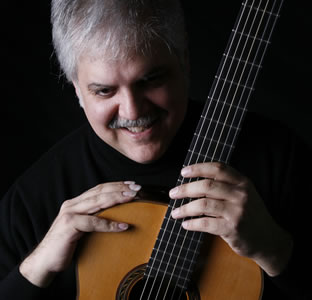 Share this Story
(Feb. 10, 2011)--As part of the Guest Artist Series, the UTSA Department of Music will present a concert performance by internationally acclaimed classical guitarist Ricardo Cobo at 7:30 p.m., Monday, Feb. 14 in the Arts Building Recital Hall on the UTSA Main Campus.
Regarded as one of the world's leading virtuosos of the new classical guitar generation, Cobo began playing guitar at age 8 with the assistance of his mother, a classically trained pianist. He displayed so much promise, he later was admitted to the Antonio Maria Valencia Conservatory in Cali, Colombia. At age 17, he made his professional debut with the Orquesta Filarmonica de Bogota in a nationwide broadcast to an audience of more than 9 million.
Born in Cali, Colombia, Cobo has performed and taught worldwide as a soloist, chamber musician, recording artist and lecturer. He has performed in major concert venues around the world including engagements in Asia, Ukraine, Korea, Spain and Venezuela and in the United States at Carnegie Hall in New York, Phillips Gallery in Washington, D.C., and the Los Angeles Ambassador Auditorium.
Cobo's versatility can be heard in his award-winning solo recordings of classical and children's music as well as his orchestral and crossover recordings in collaborations with jazz and classical musicians. His "Guitar Lullaby" CD was awarded the American Library Association's highest recognition for children's music and a Parent's Choice Award as one of the finest classical audio guitar pieces on CD.
Cobo is the only Hispanic to win a gold medal at a Guitar Foundation of America International Competition. He also captured first-place honors at the ninth Alirio Diaz International Competition in Caracas and the ninth Casa de Espana Competition in San Juan. Additional honors include receiving Colombia's Order of Canasgordas and Order of Belalcazar for outstanding merit exhibited in cultural affairs.
Cobo earned a bachelor's degree in music from the North Carolina School of the Arts in Winston-Salem and pursued postgraduate studies at Florida State University.
General admission is $10; $5 for seniors, military and UTSA students with UTSACard. For more information, visit the UTSA Department of Music website.