UTSA to present documentary film about rising above discrimination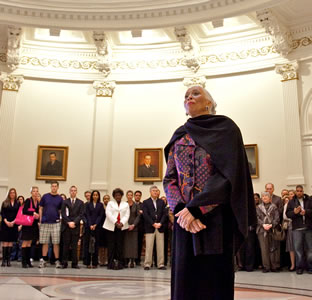 Share this Story
(Feb. 18, 2011)--As part of Black History Month, the UTSA community is invited to a free screening of the award-winning documentary "When I Rise" at 2:30 p.m., Monday, Feb. 21 in the Durango Building Student Activities Center (1.116) at the UTSA Downtown Campus.
The film is on the life of Barbara Smith Conrad, a gifted African American who was a music student at the University of Texas at Austin. Conrad became a target of racial discrimination in 1957, then ascended to the heights of international opera.
Conrad was thrust into a civil rights storm that changed her life when she was cast in an opera to co-star with a white male classmate. The decision fueled backlash from members of the Texas Legislature.
When Conrad was expelled from the cast, the incident escalated to national news, prompting unexpected support from a pop superstar. The small-town girl from Center Point, Texas, emerged as an internationally celebrated mezzo-soprano and headlined on stages around the world.