Critique: Paintings by Ana Fernandez create hybrid of South Texas culture and surrealism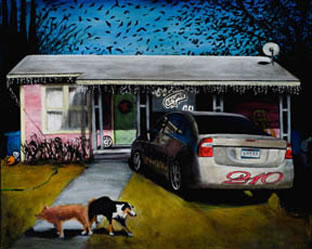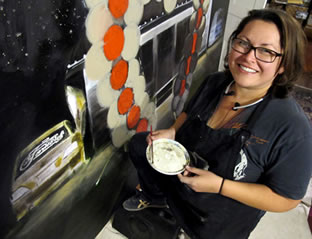 Share this Story
(March 9, 2011)--Ana Fernandez subtly, but surely captures a bit of the old masters into her contemporary work. Fernandez creates a hybrid of South Texas culture and surrealism. The artist recently showed a series of oil paintings at the Joan Grona Gallery in the Blue Star Arts Complex.
Fernandez' eerie mood is inspired by Goya, but the artist's methods for rendering a mysterious sensation are her own. Fernandez uses a great amount of contrast, greatly appealing to one's curiosity. Several paintings show houses decorated for festivities, but there is no one there to celebrate, a house is painted in a cheery palate, but just above it ominous birds are rising toward the sad sky. Along with using juxtaposition, the artist's technique is crucial to creating a theatrical tone.
There are more than enough clues to start a narrative, such as a clock in an odd place by the door, a crime scene ribbon across a harmless looking home, a window where there is a picture of a ship on a stormy sea. A puzzling, yet incomplete, storyline is part of the works magnetism. The effects seem effortless, but without the sensitive attention to detail the somber mood of the work is compromised.
The work's atmosphere is reminiscent of surrealist de Chirico. Both painters capture a sense of loneliness, a desolate setting. The lack of figures or people in Fernandez' paintings makes one wonder where everyone has gone off to. What has happened to make everyone disappear? When asking the artist why there are no people she replied that she "did not want them to become the focus of the paintings."
The decision to leave people out has a strong effect on a spectator, the result being a fervent feeling of the enigmatic and wanting to investigate more. Whether it is the lack of people or a highly individualized landscape, there is an air of something missing. While the yards are sprinkled with remnants of inhabitants there is an inescapable feeling of absence.
Yet Fernandez' series does not invoke a sense of impending doom per se; the work is not so much dark as it is cast in shadows. Yes, there is a chord of slight melancholy, but not without a definite note of humor and playfulness. Christmas lights hang from the houses, but it's the wrong season; Spurs posters are up, and two dogs attempt to part ways after a brief "romantic" encounter.
Fernandez has taken elements of romanticism and surrealism incorporating them against the setting of South Texas, bringing out a side of the city where the ghosts are apt to dwell playfully. These paintings promise something new with every visit. The work charms you, draws you in and allures you, all the while never revealing its secrets.
------------------------------
The recent show of works by Ana Fernandez at the Joan Grona Gallery was curated by Arturo Almeida, archivist of the UTSA Art Collection.