UTSA presents Safe Spring Health and Wellness Expo March 9 at Main Campus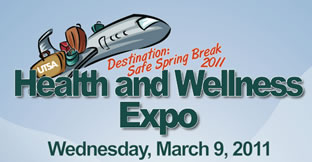 Share this Story
(March 4, 2011)--UTSA Student Health Services will host the Safe Spring Break Health and Wellness Expo from 9:30 a.m. to 1:30 p.m., Wednesday, March 9 at Sombrilla Plaza and the University Center on the Main Campus. The fair promotes the importance of health and mental wellbeing, safety and resources geared toward prevention, early detection and support services.
At the free event, UTSA students, faculty and staff and the general public can chat with more than 60 health professionals and representatives from local agencies. Attendees can register as marrow donors and donate blood as well as receive a free chair massage, take the strongman challenge and play games.
Free screenings will include blood glucose, cholesterol, blood pressure, vision, spine, breast cancer and HIV among others. There will be booths demonstrating Zumba, dance, self-defense, hands-only CPR, workplace ergonomics and fire extinguishing. Local physicians will answer questions on allergies, wellness and employee issues.
UTSA departments and student organizations along with local organizations will provide educational material on sexual health, sexual assault, alcohol and tobacco use, sun safety, outdoor safety and cancer awareness.
Hands-only CPR training is the newest health fair activity. The 10-minute training session will be provided by the UTSA Office of Environmental Health, Safety and Risk Management (EHSRM). Facilitators will guide participants on how to do chest compressions using manikins.
"This is a great opportunity for people who have never taken a CPR training course and who want to learn a life-saving skill," said Thomas Murph, R.N. and workers' compensation insurance occupational health coordinator for EHSRM. "If you can put one hand on top of your other hand, lock your elbows and push hard and fast, you can save a life."
Health expo highlights at Sombrilla Plaza on the Main Campus:
Hands-only CPR
Fitness demos
Retinal, blood glucose, cholesterol and blood pressure screenings
Screenings on mental health, alcohol use
Reproductive health and pregnancy resources
Cancer education and awareness resources
Nutrition
Dental care
Smoking cessation
Finance resources
Fitness and physical activity
Fire safety
Radon testing kits
Information on lupus, diabetes, muscular dystrophy
Free HIV testing (Student Health Services, Recreation and Wellness Center Room 1.500)
Children of Children: Exhibit Portraits and Stories of Teenage Parents, University Center Room 1.02.22, 10 a.m.-3 p.m.
Seminars in the University Center Chicano Cultural Room (2.01.40), Main Campus:
9 a.m. -- Coping with stress and depression
10 a.m. -- Nutrition and weight
Noon -- Ask the Doctor About General Wellness
1 p.m. -- Ask the Doctor About Allergies
To reserve a seat at a seminar, call 210-458-6428 or e-mail StudentHealthServices@utsa.edu. Reservations are available on a first-come, first-served basis with a limit of 25 per seminar.
For more information, contact Student Health Services at 210-458-6807 or visit the UTSA Health Expo website.
The event is sponsored by Campus Recreation, Environmental Health Safety and Risk Management, Human Resources, Student Health Services, Student Activities, BARR (Be A Responsible Roadrunner), Rowdy New U Wellness, Occupational Health and the College of Sciences.