Join UTSA Recyclemania: Bring your paper to the Convo on March 24-25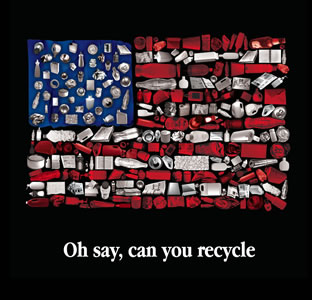 Share this Story
(March 16, 2011)--As part of Recyclemania, which runs through April 2, the UTSA Office of Health, Safety and Risk Management and recycling partner GreenStar will host an opportunity for UTSA community members to get rid of personal documents and other paper that you would like to shred. The event will be from 10 a.m. to 5 p.m., Thursday-Friday, March 24-25 in front in front of the Convocation Center on the Main Campus.
>> Be a Recyclemaniac: For convenience, you can drive up to the collection station to unload your paper and documents. GreenStar will provide a secure container for discarding of paper. GreenStar also will provide an instructional vehicle to demonstrate how the company helps to maintain the equilibrium of the environment.
Following the event, the container will be picked up by GreenStar, a company certified for destruction of documents in San Antonio, then taken to the recycling center where the paper will be shredded. UTSA faculty, staff and students are encouraged to take advantage of this free service.
Sponsored by the Environmental Protection Agency, Recyclemania is a friendly competition between colleges and universities nationwide to promote waste reduction activities in their campus communities.
Recycling is part of UTSA's goal to minimize trash and achieve a greener and more sustainable environment. UTSA typically recycles more than 173,220 pounds each quarter in paper, cardboard, aluminum, plastic and glass. This achievement is due mainly to the commitment of UTSA community members to recycle and the joint efforts of many departments to make recycling easier and more convenient on campus.
In Recyclemania, UTSA is competing among 362 schools nationwide for the Gorilla Prize. As of this week, UTSA is ranked 131 of 362. For Recyclemania, we have collected 62,090 pounds of recycled material. Read more about Recyclemania on UTSA Today.
The Gorilla Prize is a new recognition for schools that collect the highest gross tonnage of recyclables, regardless of campus population. Schools that participate in either the Per Capita or the Waste Minimization competitions are automatically eligible to win the Gorilla Prize. The prize will honor schools with outstanding recycling programs that have the infrastructure in place to handle a large volume of recyclables. The winner will be the school that has the highest total pounds of recycled materials.