UTSA Downtown Campus hosts March 19 citywide event celebrating SA2020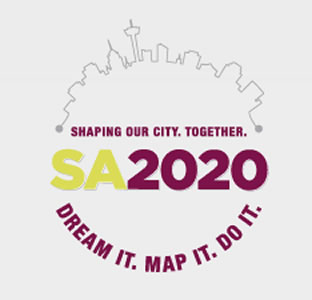 Share this Story
(March 15, 2011)--The UTSA Downtown Campus will be the site of a citywide event celebrating SA2020 on Saturday, March 19, in the Bill Miller Plaza.
Sponsored by the Office of the Mayor, the event will celebrate the final report of SA 2020, a six month-long, community collaborative to help define the future of San Antonio. The event, co-sponsored by the UTSA Office of the Vice Provost for the Downtown Campus and the UTSA College of Public Policy, the event will begin at 11 a.m. and will include a catered barbecue lunch.
>> For more information and to reserve a seat, visit the SA2020 website.
"We are very pleased that the mayor has chosen the Downtown Campus as the location for this event," said Jesse T. Zapata, UTSA vice provost for the Downtown Campus. "We have many academic programs that emphasize our connection to the San Antonio community in particular and to urban settings in general. Given its setting and its mission, the Downtown Campus is the ideal site for the mayor to release the final SA2020 report."
SA2020 began in September 2010 and consisted of five public meetings to address three key questions:
What are the biggest challenges facing San Antonio today?
What is the most important aspect of living in San Antonio that you hope is preserved or maintained?
If you could change or improve one thing about San Antonio, what would that be?
The public meetings were chaired by Mayor Julian Castro; Graham Weston, chairman of Rackspace Hosting; Darryl Byrd, managing director of Pearl Brewery; and Sonia Rodriguez, attorney and chairwoman of the Mayor's Commission on the Status of Women.
"The College of Public Policy is honored to serve as co-sponsor of this event, which celebrates a wonderful effort and the beginning of a significant policy initiative for the City of San Antonio," said Francine Romero, associate dean of the UTSA College of Public Policy. "We look forward to working with Mayor Castro on this and future collaborations to make SA2020 goals a reality."
For more information or to view the final report, visit the SA2020 website.