Santikos Foundation gives $50K for UTSA College of Liberal and Fine Arts scholarships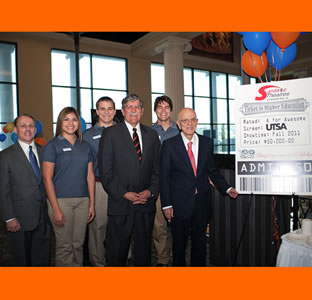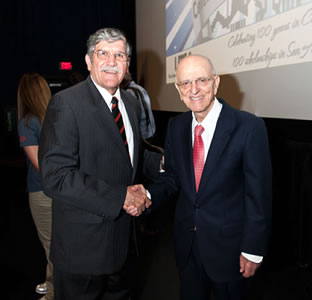 Share this Story
(March 23, 2011)--Fifty freshmen in the UTSA College of Liberal and Fine Arts will receive $1,000 scholarships, thanks to a well-known local businessman.
The John L. Santikos Charitable Foundation will award $100,000 in scholarships -- $50,000 to UTSA and $50,000 to St. Mary's University -- for entering freshmen this fall. The gift is in celebration of the 100th anniversary of Santikos Theatres.
The announcement was made at a Tuesday morning ceremony at the Palladium Theatre at The Rim, one of seven Santikos cinema centers in the city.
UTSA President Ricardo Romo; Dan Gelo, dean of the College of Liberal and Fine Arts; and UTSA student Ambassadors Jonathan Peterson, Tyler Martini and Iliana Sanchez were on hand to accept the "Ticket to Higher Education," a scholarship announcement in the shape of a large movie ticket.
"We are thrilled to receive this gift," said Romo. "Things are very tight for families these days, so to offer $1,000 in assistance is wonderful. John Santikos and his family have done so much for the community over the past 100 years. It is an honor for UTSA to be a part of that legacy."
John Santikos, chairman of the foundation and CEO of the theater chain, reflected on his family's history and his father's first theater in the early 1900s.
"We've been fortunate in building our business here and I'm very proud of the positive impact we've been able to have in San Antonio with thousands of young people getting their first jobs working in our theaters and so many going on to college," said Santikos, who is a graduate of St. Mary's University.
"While St. Mary's helped give me my start, we have also worked closely with UTSA's College of Liberal and Fine Arts over the years, and so it seemed very appropriate to make a scholarship gift to both universities in our centennial year," he said.
Local Santikos Theatres include the Palladium IMAX, Silverado 16, Mayan, Northwest, Embassy, Bijou Cinema Bistro and the Rialto. The company also has a 19-screen IMAX theater in Houston.
For more information about the Santikos scholarships, email Lisa Blazer, UTSA assistant vice president for student financial aid.