Texas Undergraduate Research Day brings laboratories to legislators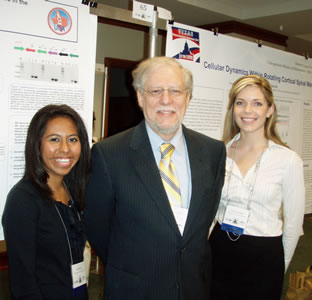 Share this Story
(March 8, 2011)--UTSA seniors Erin Josserand and Ann Reyes took their research on the road to participate in Texas Undergraduate Research Day on February 14 at the State Capitol in Austin. The event, themed "Transforming Texas through Undergraduate Research," included more than 140 Texas undergraduate students representing approximately 50 universities and colleges.
"Research has become a critical component of the undergraduate curriculum for science students," said George Perry, dean of the UTSA College of Sciences. "Research projects teach undergraduates to navigate a laboratory, develop and test hypotheses, interpret research published by scholars and work on a team. Those skills are critical for students like Erin and Ann who plan to continue their education in graduate studies or health professions programs."
Josserand, a UTSA College of Sciences and UTSA Honors College student majoring in biology and minoring in mathematics, was nominated to represent UTSA at the event by her faculty research advisor David Senseman, UTSA associate professor of biology and a member of the UTSA Neurosciences Institute. Josserand conducted her research through the UTSA Undergraduate Mathematics and Biology (UMB) Scholar program, which is funded by the National Science Foundation.
Reyes, a UTSA College of Sciences student double-majoring in biology and mathematics and minoring in chemistry and computer science, was nominated by her faculty adviser Janakiram Seshu, UTSA associate professor of microbiology and a member of the UTSA South Texas Center for Emerging Infectious Diseases. Reyes is supported by UTSA's MBRS-RISE (Minority Biomedical Research Support-Research Initiative for Scientific Enhancement) programs.
Student and faculty participants in Texas Undergraduate Research Day began their morning with a tour of the State Capitol. Following the tour, they spent an hour each in the House of Representatives daily meeting and the Senate daily meeting.
In the afternoon, the students participated in an open forum featuring more than 80 research posters. Josserand presented a poster describing her neurobiology research on the spiral waves found in a turtle's visual cortex. The research included the use of a computer model of the turtle brain to see what processes occur at the cellular level to produce such interesting waveforms. Reyes presented a poster describing her research on the microbiology and microbial pathogenesis of Lyme disease. She researched the polyamine transport system of the microbe that causes Lyme disease to determine whether the system is needed for the pathogen to survive in a host environment.
Texas Undergraduate Research Day was hosted by Senator Judith Zaffirini (D-Laredo), chairwoman of the Texas Senate Higher Education Committee; Representative Dan Branch (R-Dallas), chairman of the Texas House Higher Education Committee; The Independent Colleges and Universities of Texas and The Council of Public University Presidents and Chancellors.
------------------------------
The University of Texas at San Antonio is one of the fastest growing higher education institutions in Texas and the third largest of nine academic universities and six health institutions in the UT System. As a multicultural institution of access and excellence, UTSA aims to be a national research university providing access to educational excellence and preparing citizen leaders for the global environment.
UTSA serves more than 30,000 students in more than 130 degree programs in the colleges of Architecture, Business, Education and Human Development, Engineering, Honors, Liberal and Fine Arts, Public Policy, Sciences and the Graduate School. Founded in 1969, UTSA is an intellectual and creative resource center and a socioeconomic development catalyst for Texas and beyond.