UTSA Legacy intramural men's basketball wins men's bracket in NCCS regional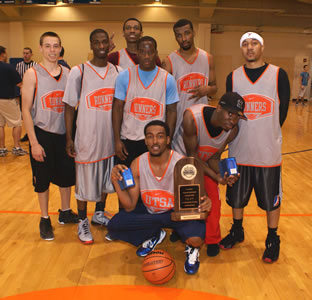 Share this Story
(March 18, 2011)--UTSA hosted the National Campus Championship Series Regional Basketball tournament Feb. 25-27. More than 56 teams participated including 36 men's teams and 20 women's teams. The largest of its kind in the nation, the tournament has participants from intramural and club teams around the region.
One of UTSA's intramural teams, Legacy, won the men's bracket. Jeremy Hines was selected for the All Tournament Team, and Isaac Williams received the Most Valuable Player award.
This year marked a repeat win for the Lamar Lady Hoops, who dominated both this and last year's regional in the women's bracket. Lamar also had two players make the All Tournament Team, Janae LaCour and Kierra White.
Both regional champions will advance to the National Intramural Basketball Championships to be hosted April 1-3 by the University of Texas at Austin.
The Lamar Lady Hoops and UTSA Legacy are one of the eight men's and eight women's basketball teams to advance to the championship tournament. Of the eight elite teams for each bracket, one will be named National Champion.