UTSA archaeologists discover artifacts dating back 10,500 years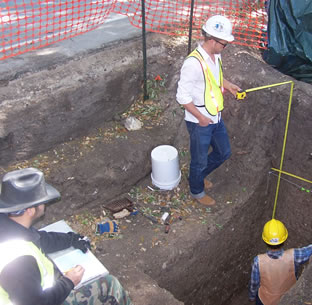 Share this Story
(April 19, 2011)--UTSA Center for Archaeological Research staff members, assisting with CAR archaeologists were contracted by San Antonio architectural firm Ford, Powell and Carson to conduct an archaeological survey and excavations on behalf of the San Antonio River Authority (SARA). SARA, as project manager of the San Antonio River Improvements Project, requested the survey before the construction of a sidewalk trail system which would include the installation of 14 pedestrian light fixtures. The sidewalk is a part the Museum Reach Park segment of the San Antonio River Improvements Project, which is going through Brackenridge Park.
"We started digging about two meters down and pulled out archaic tools and archaic points and below them spear points from the Paleo-Indian period which date back from 8,000 to 10,500 years B.P.," said Kristi Ulrich, CAR project archaeologist. "We found more than 500 artifacts ranging from tiny flakes, which are left over from making tools, to larger woodworking, carving tools believed to make canoes."
Discovered artifacts include:
Angostura projectile point (spear point) from the early portion of the Early Archaic period (7,500-8,800 B.P.)
Saint Mary's Hall projectile point (spear point) from the Paleoindian period (8,700-9,900 B.P.) These are some of the oldest artifacts recovered from the banks of the San Antonio River.
A Dalton projectile point that may date to 10,500 years B.P.
Guadalupe Adzes that are thought to be woodworking tools from the Early Archaic Period (5,300 B.P. and earlier) -- A more definitive age range for the deposits will be forthcoming once the radiocarbon dating of charcoal and bone found at the site is completed
Additional CAR staff members working on the project include UTSA staff Jason Perez and Nate Devito and graduate students Dirk Sinclair, Kelly Denham and Lynn Wack.
CAR archaeologists worked closely with Mark Denton of the Texas Historical Commission and Kay Hindes, archaeologist with the City of San Antonio Office of Historic Preservation and Zachry Construction Corp.
"The public is very excited about the Museum Reach project because it will enhance the trail system through Brackenridge Park and provide pedestrian access off of Mulberry, which is a very busy street," said Hindes. "The Museum Reach project, combined with a separate city bond project along Mulberry, will link everything together so pedestrians have access from Broadway to St. Mary's. We are thrilled with the work the UTSA Center for Archaeological Research has done to assist with this project."
The artifacts were returned to the CAR laboratory where they were washed, carefully tagged and labeled to allow researchers to identify them and study changes in stone tool making, hunting practices and the activities that took place on the shores of the San Antonio River some 9,000-10,500 years ago.
The Mulberry sidewalk portion of the Museum Reach park segment of the San Antonio River Improvements Project is scheduled to be complete May 1. Funding for the sidewalk is from the City of San Antonio and Bexar County as a result of the passage of the 2008 Venue Tax referendum. UTSA Center for Archaelogical Research staff members also have been working on other local projects as a part of the city's $550 million bond project, which voters approved in 2007.
To date, CAR has administered more than 500 contracts and grants. Research activities have focused on numerous prehistoric sites and historic archaeology at Spanish colonial missions, the Alamo, historic churches and forts, and early Texas settlements. Staff members have conducted archaeological investigations in Texas, New Mexico, Oklahoma, Mexico, Belize and South America. Results of these investigations are published in more than 400 volumes in 10 publication series.