Call for volunteers: 40th annual Texas Folklife Festival is June 10-12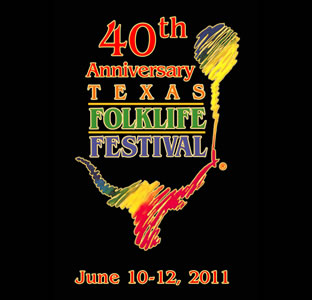 Share this Story
(April 7, 2011)--The UTSA Institute of Texan Cultures invites the UTSA community and friends to be part of the 40th annual Texas Folklife Festival, June 10-12. Volunteer support is critical to the popular festival's success.
The Texas Folklife Festival is the biggest cultural celebration in Texas. More than 250 participant groups, including more than 40 ethnic communities, come together each year to celebrate their heritage. On the grounds of the Institute of Texan Cultures at the UTSA HemisFair Park Campus, the three-day event showcases the Lone Star State's diversity and rich heritage through a wide variety of ethnic food, music, dance, arts and crafts.
The 2011 festival dates and times are:
Friday, June 10, 5-11 p.m.
Saturday, June 11, 11 a.m.-11p.m.
Sunday, June 12, noon-7 p.m.
Festival volunteers must attend an orientation session at 6 p.m., either Wednesday, May 18 or Wednesday, May 25, at the Institute of Texan Cultures. Parking for orientation will be available in the ITC employee lot at the back of the building (entrance on the corner of Tower of the Americas Way and Durango Boulevard).
Festival volunteers receive a wristband valid for free admission each day to the festival, along with parking passes and free shuttle service to and from the festival grounds. Volunteers can purchase the 40th anniversary volunteer t-shirt at a discount price.
Orientation will cover the volunteer handbook, procedures and job descriptions. Festival officials will be present to answer questions.
To get started, volunteers can visit www.texasfolklifefestival.org and click the "Volunteers" link. For more information, call the volunteer hotline at 210-458-2216.
------------------------------
The UTSA Institute of Texan Cultures is the forum for the understanding and appreciation of Texas and Texans through research, collections, exhibits and programs. The museum strives to become the nation's premier institution of contemporary cultural and ethnic studies focusing on Texans and the diverse cultural communities that make Texas what it is.
An agency of the UTSA Office of the Vice President for Community Services and a Smithsonian affiliate, the 182,000-square-foot complex features 45,000 square feet of exhibit space and five recreational Texas frontier period structures. The museum is on the UTSA HemisFair Park Campus in downtown San Antonio at 801 East Durango Blvd., San Antonio, Texas, 78205.