UTSA Spring Game Football Fiesta is Saturday, April 9 at Alamodome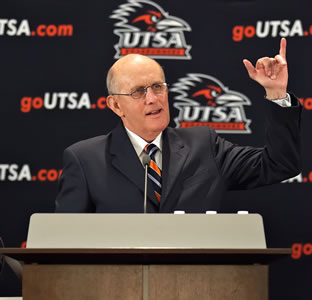 Share this Story
(April 6, 2011)--The inaugural UTSA Spring Game Football Fiesta will be at 2 p.m., Saturday, April 9 at the Alamodome in downtown San Antonio. Admission is free and parking will be available to the public for $5 in lots A and B.
The game pits the offense against the defense for a predetermined number of plays and will mark the conclusion of spring camp, which consisted of 15 workouts dating back to March 5.
An autograph session with head coach Larry Coker and the student-athletes will be immediately after the game.
For more information, visit the UTSA Athletics website or email Kyle Stephens.