UTSA student organization raises more than $10K for children with cancer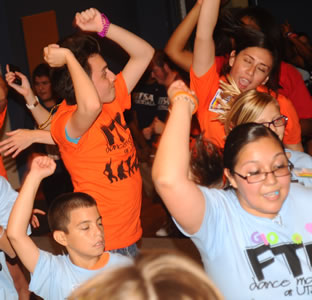 Share this Story
(April 29, 2011)--UTSA's For the Kids (FTK) student organization hosted a 12-hour, no-sitting dance marathon Saturday, April 23 on the UTSA Main Campus. The marathon raised more than $10,600 to benefit children with cancer and their families.
The FTK dance marathon featured a group of marathoners, the FTK Dancers, who participated by standing for 12 hours while interacting and performing with the children and their families. The goal of the event was to raise awareness while providing financial and emotional support to the children and their families affected by childhood cancer. The event was a metaphoric way to show the children that they have friends who will stand for them against cancer.
"We will continue to dance for the children year after year, until one day we can dance in celebration of a cure for childhood cancer," said Ryan Zapata, overall chair of FTK. "Together, we hope to make every wish come true -- one dance at a time."
Last fall, FTK hosted the "Fashion Out Cancer Show" at which childhood cancer patients and their siblings strutted down the runway as the models, proving that cancer is "so out of style." This semester, FTK held a two-hour Zumba marathon featuring UTSA Campus Recreation Center Zumba-certified instructors; more than 150 attended the event.
The FTK dance marathon featured other San Antonio groups such as CHRISTUS Santa Rosa Children's Hematology/Oncology department staff members, Business Careers High School students, and the Clark High School drum line and state baton-twirling champion.
For more information, call 210-449-3524 or visit the For the Kids website.