UTSA Art Collection: Artist of the Month Guillermina Zabala writes with light in her latest work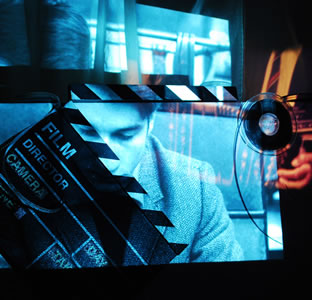 Share this Story
(April 18, 2011)--Guillermina Zabala, originally from La Plata, Argentina, is a San Antonio-based media artist, filmmaker and photographer. Additionally, she is the media arts director for SAY Si, an award-winning youth arts program in San Antonio.
Her work will be included in an upcoming UTSA Art Collection publication on the artists and their works of art from the collection. Arturo Almeida, art specialist and curator of the collection, exhibited Zabala's work in the 2008 Blue Star Contemporary Art Center exhibition, "Arte Latina: ROAR and FOTOGRAMA" at Galeria Ortiz Contemporary.
Her most recent project, "I, Me, Light," based on the song, "I, Me, Mine" by George Harrison, was part of the Luminaria event at HemisFair Park. Her four-channel video installation was set in one of the water fountains by the Tower of the Americas, and each screen projected a series of video portraits of San Antonio citizens writing one word that represented himself or herself.
After she filmed each person, she highlighted the word with light, which created a light-writing effect. While Harrison's song is a critique of the "material body as our false self and material possessions as temporary," Zabala reinvents the concept of self and body in her pieces in a positive manner that depicts her human subjects as full of light.
Zabala now is focusing her time and energy on a non-traditional documentary on which she has been working for three years, "Juanito's Lab." The film explores the struggle of Juanito, a young blind musician who plays 14 instruments, and highlights his efforts to find his own voice among the Conjunto music movement in South Texas.