Dedication of McKinney Humanities Building is April 26 at UTSA Main Campus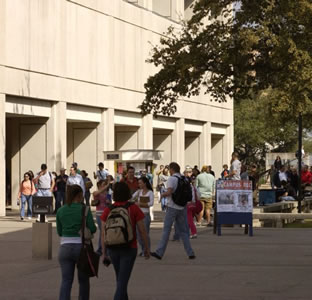 Share this Story
(April 22, 2011)--The University of Texas at San Antonio will host an official dedication of the McKinney Humanities Building, named in honor of benefactor Mary E. McKinney. Free and open to the public, the ceremony will be at 10 a.m., Tuesday, April 26 at the south side of the building adjacent to Sombrilla Plaza on the UTSA Main Campus.
McKinney bequeathed an estimated $28 million to UTSA to support student scholarships. The facility housing the College of Liberal and Fine Arts was formerly known as the Humanities and Social Sciences Building.
The benefactor bequeathed her estate to the university before her death in November 2009. It is the largest single private gift in university history and one of the largest to be given to a Texas university or college.
The gift will continue funding the Felix and Elizabeth McKinney Memorial Scholarship Fund created by the benefactor in 1994 in honor of her parents.