Earth Day, April 22: Recycle personal and office paper at Convocation Center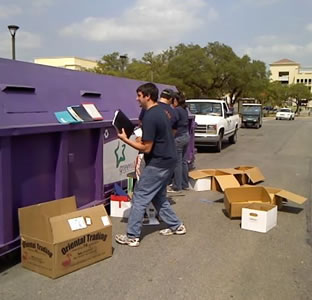 Share this Story
(April 21, 2011)--As part of UTSA Earth Week 2011 and on Earth Day, the UTSA Office of Environmental Health, Safety and Risk Management and recycling partner Greenstar Recycling Inc. will host a secure paper recycling drop-off station from 9 a.m. to 5 p.m., Friday, April 22 at the west side of the Convocation Center on the UTSA Main Campus.
Greenstar is a company certified for document recycling and the new UTSA recycling contractor. The company will provide a secure container for paper shredding at the event. Time to clean out your office or shred personal documents? Bring them in!
GreenStar will have at the event a shed-pod for shredding sensitive documents or any documents you wish to recycle. Additionally, their educational trailer will be onsite from 9 a.m. to 3 p.m. in which visitors can learn about where recycled material goes for processing and disposal.