QEP course development teams are chosen for fall 2011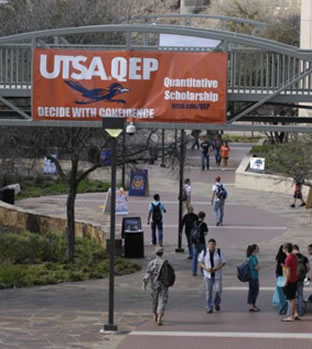 Share this Story
(April 11, 2011)--In fall 2011, UTSA will begin implementation of its Quality Enhancement Plan (QEP), developed as part of UTSA's reaccreditation by the Southern Association of Colleges and Schools. "Quantitative Scholarship: From Literacy to Mastery" focuses on enhancing the quantitative reasoning and critical thinking skills of undergraduate students to help them understand and evaluate data, assess risks and benefits, and make informed decisions in all aspects of their lives.
In fall 2010, UTSA faculty were invited to submit proposals to the Quantitative Literacy Course Development program. The goal of the course development program is to provide the resources and support for significant and sustainable course redesign in support of the QEP.
Based on the recommendations of the program committee, seven proposals were selected for funding (see list below).
"We received several outstanding proposals from different colleges, and I believe we have selected an outstanding group of faculty members who have a strong commitment to teaching at the undergraduate level," said Nandini Kannan, QEP project director and professor of management science and statistics. "As part of the first QEP cohort, they have the opportunity to be leaders in the development of an exemplary program. Already, UTSA is receiving national attention from quantitative literacy leaders."
The teams will work on integrating quantitative reasoning and communication skills into their core courses over the summer. All faculty members will receive a summer stipend and participate in workshops through the summer. UTSA students can register for these redesigned courses for the fall 2011 semester.
"The QEP will result in long-term improvement of student learning, and help us align UTSA's aspirations to be a national research university and its mission of providing access," said Provost John Frederick. "I congratulate these faculty teams, and I thank the deans and department chairs for their continued support of this program."
--------------------------------
QEP teams
Anthropology I
Thad Q. Bartlett
Joanna E. Lambert
Anthropology II
Sonia Alconini
M. Kathryn Brown
Robert Hard
Laura J. Levi
Biology I
Aaron Cassill
Patricia Geppert
Jyotsna Sharma
Biology II
David Jaffe
David Senseman
Geological Sciences
Amy Richter Clark
Alan Dutton
Jeffrey Neathery
Eric Swanson
Sociology
Terri Earnest
Ginny Garcia
Michael Miller
Economics
Les Doss
Shakira Johnson
Richard Welch