University of Houston historian speaks on fiesta history in Mexican American communities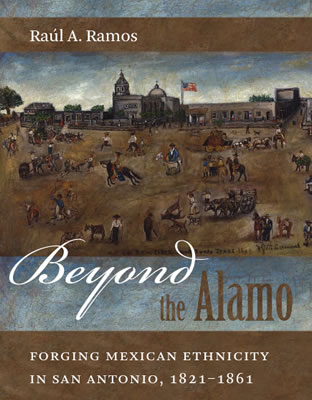 Share this Story
(April 6, 2011)--The UTSA Department of History and the American Studies program will host Raul A. Ramos, associate professor of history at the University of Houston, for a presentation at 6 p.m., Thursday, April 7 in the Buena Vista Street Building Assembly Room (1.338) on the UTSA Downtown Campus. The lecture is free and open to the public.
Ramos will speak on "Patria on Parade: The Centenario in San Antonio and the American Southwest," based on his recent research on the history of fiestas and their meanings in Mexican American communities. In his award-winning book "Beyond the Alamo: Forging Mexican Ethnicity in San Antonio, 1821-1861," he examines the roots of Mexican American identity in San Antonio spanning the Spanish, Mexican and American periods.
A native San Antonian, Ramos has worked in higher education for 11 years and teaches classes on Chicano/Chicana history to 1910, history of the American West, Texas history to 1865 and Texas American history. His research interests include the historical development of identities by ethnicity, nationality, region and class.
Before the University of Houston, Ramos was assistant professor of history and ethnic studies at the University of Utah in Salt Lake City. He was a fellow at the William Clements Center and the Center for Southwest Studies at Southern Methodist University. He received bachelor's degrees in history and Latin American studies from Princeton University and a doctoral degree in history from Yale University.
The event is co-sponsored by UTSA President Ricardo Romo and Dr. Harriett Romo and The University of Texas at San Antonio.
The UTSA Department of History enhances collective knowledge of the past and teaches students how to develop informed and discerning perspectives on historical occurrences. The department disseminates the benefits of a historical education to multicultural populations in San Antonio, South Texas and beyond and promotes faculty and student research, teaching a comprehensive curriculum in history and American studies.
For more information, contact Rhonda Gonzales at 210-458-4026.