Eight apartment complexes agree to participate in UTSA campus shuttle service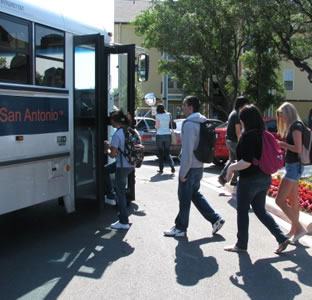 Share this Story
(April 21, 2011)--The UTSA Business Auxiliary Services Transportation Division announces the following apartment complexes will participate in the UTSA shuttle system during the 2011-2012 academic year:
Avalon Place
Broadstone Ranch
High View Place
The Highlands
Hill Country Place
Maverick Creek Villas
The Outpost
The Villas @ Babcock
This year, the UTSA shuttle system is projected to provide more than 1.5 million passenger rides with approximately half of the rides provided to and from off-campus apartments. Student use of the off-campus service reduces peak parking needs at the Main Campus by an estimated 2,000 spaces, significantly reduces traffic congestion and has a positive impact on the environment by lowering our carbon footprint.
"Business Auxiliary Services appreciates the many students who utilize the shuttles for their commute and the apartment complexes that support the shuttle system for the benefit of UTSA students and the local community," said Jim Strahan, UTSA transportation services manager. "With the East Parking Garage construction in progress on the Main Campus until summer 2012, this valuable service will be in high demand, since parking availability will be affected during construction."
For more information, visit the UTSA Transportation website.