UTSA manufacturing center invites public to May 20 networking show-and-tell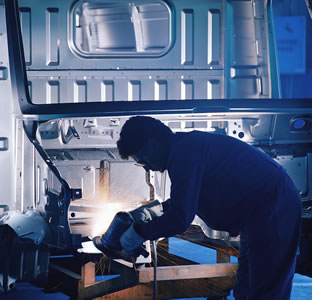 Share this Story
(May 16, 2011)--The UTSA Center for Advanced Manufacturing and Lean Systems (CAMLS) will host "Spring Show and Tell," an open house and networking event for members of the business community, from 9 a.m. to 1 p.m., Friday, May 20 in the Biotechnology, Sciences and Engineering Building Multifunction Room (2.102) on the Main Campus. The event will include a complimentary lunch from noon to 1 p.m.
"UTSA founded the Center for Advanced Manufacturing and Lean Systems in 2007 to address the growing need of San Antonio and south Texas industries for manufacturing research and development, education and training," said F. Frank Chen, UTSA's Lutcher Brown Distinguished Chair in Manufacturing and director of the center. "Our specialties include lean manufacturing and six-sigma, supply chain and logistics engineering, warehouse systems, automation technologies, and advanced sensors and robotics."
Attendees can meet researchers from the UTSA manufacturing center and network with others in the manufacturing industry. Guests also will hear testimonials from manufacturers who have partnered with CAMLS to improve their operations, sustainability practices and other areas of business.
Speakers will include executives from Harland Clarke, W W Wood, The Chism Company and Lancer Corp. (See the event agenda below.)
Advanced registration is required to attend the CAMLS "Show and Tell." Make reservations at the CAMLS website or contact Nancy Miller at 210-458-6773. As a bonus, registered attendees will receive a discount on the CAMLS One-Day Lean Service/Office Course on Friday, June 10.
------------------------------
CAMLS Spring Show and Tell agenda, May 20
9-9:20 a.m. -- Welcome, introduction, highlights of industry projects
9:20-10:15 a.m. -- Testimonials from CAMLS member companies
10:15-11 a.m. -- Industry group discussions
11-11:40 a.m. -- Group reports, Q&A session
11:40-noon -- Demonstration of Micro Accountability software that helps manufacturers reduce errors and promote productivity
Noon-1 p.m. -- Complimentary lunch