UTSA Vice President Gage Paine receives NASPA award for outstanding performance as senior student affairs officer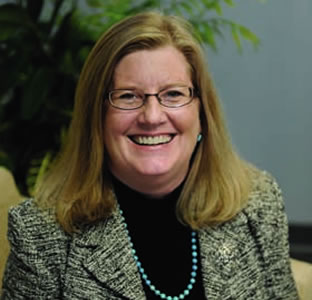 Share this Story
(May 19, 2011)--The National Association for Student Personnel Administrators (NASPA), Region III, has selected Gage Paine, UTSA vice president for student affairs, as winner of the John Jones Award for Outstanding Performance as a Senior Student Affairs Officer. Awards will be presented to Paine and other honorees at the NASPA Summer Symposium June 13 in Savannah, Ga.
Paine has served at UTSA for four years, leading a staff of 450 and an equal number of student employees, including overseeing the athletics program.
Paine earned her Ph.D. in educational administration from the University of Texas at Austin and a juris doctorate from Texas Tech University. She has worked extensively in university student affairs, serving as vice president for student affairs at Trinity University in San Antonio, associate vice president for student affairs and dean of student life at Southern Methodist University in Dallas, and associate dean of students at the University of Texas at Austin.
At UTSA, Paine serves as a consultant on Southern Association of Colleges and Schools accreditation teams. In 2009, she was awarded the Dr. James (Jim) E. Caswell Distinguished Service Award for Excellence in Leadership by the Texas Association of College and Student Personnel Administrators.
She has presented workshops at numerous statewide and national conferences on student affairs topics and has presented various creative leadership programs. She served as director of the New Professionals Institute for NASPA, Region III, in 2008 and 2009.
Her innovative approach to creativity and leadership development and exploration includes the use of metaphors in workshops such as The Leadership Dance, The Heart of Leadership and Leadership Yoga. Paine co-implemented Leadership UTSA, a collaborative cross-functional partnership between academic and administrative staff to cultivate leadership skills, institutional vision and organizational change. She also delivers leadership and strategic planning consultations to a variety of academic and nonprofit audiences.
------------------------------
Criteria for the NASPA award
Sustained professional service as a senior student affairs officer
High-level competency in administrative skills
Merited respect and support of students, faculty and fellow administrators on his/her own campus
Innovative response in meeting varied and emerging needs of students
Effectiveness in the development of junior staff members
Significant contributions to the field through publications or professional involvement
Leadership in community and university affairs