Big world connections, small-scale research: Carlos Garcia's team crosses cultures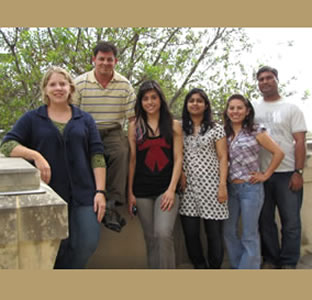 Share this Story
(May 11, 2011)--While working with ever-smaller amounts of materials, one UTSA research team is encompassing a larger, more global scale. On the fourth floor of the Biotechnology, Sciences and Engineering Building in the Microanalytical Chemistry Lab of Carlos D. Garcia, UTSA associate professor of chemistry, the team is crossing cultural lines. Garcia is bringing researchers from around the world to train and collaborate with other scientists worldwide.
Each team member has expertise to offer, not only about electrodes, nanotechnology and fluids, but also through each participant's different mindset and worldview. Team member ages range from mid-20s to mid-40s and come from places as close as the South Side of San Antonio and as far as Atlanta, India, Argentina, Peru, Brazil, China, Indonesia, Iran and Spain.
Garcia was born in Argentina and has traveled in the United States, Brazil, Chile, Sweden, Spain and several other countries to study and do research. His experiences through researching in other countries have shown him the value of a truly international education. It helps more than one might expect, as scientists share more than research.
"People come with different experiences and different ways of solving a problem," he explains. "We learn as much as they do. It has been extremely positive for us."
Years ago, Garcia started a very ambitious international recruitment effort to bring scholars and students to his lab. Now, they contact him and ask if there is space in San Antonio. Team members in Garcia's lab can make diffuse connections because they all can see details and information from a slightly different perspective. The international aspect of the lab isn't a detriment. It's a value-added aspect.
Collegial and cultural exchange happens without much effort. Taste buds are involved. Jessica Felhofer, who has been working in the lab since she was an undergrad, calls it "delicious." Why? Because lunchtime isn't only when the group meets to discuss larger projects; it also is a time to share food and recipes.
Karin Chumbimuni Torres from Peru explains, "We talk a little bit during lunch, we learn the culture, the food they bring, you become more aware of the world."
Different languages and backgrounds are not a problem.
"Mainly, we are chemists, we have chemistry to talk about," says Chumbimuni Torres. "You speak the same way in chemistry. The science can grow more, by talking with them."
This is evident during the team's Thursday morning sessions in which they discuss presentations and research. Lab members must be prepared to think on their feet and answer any and all questions. This prepares the students and researchers for presenting at conferences, when questions from technical to mundane to oddball can be asked.
"We try to be as mean as possible," Garcia jokes.
On a recent Thursday morning, it was Felhofer's turn. Team members politely listened to her presentation, which focused on different strategies to improve the analysis of biological molecules.
Then the questions came.
Garcia uses these sessions as a lesson not only in thinking quickly, but also listening carefully to complex questions and questions using terminology slightly different from your area of training.
Sometimes, terminology doesn't always easily translate. "There can be some cultural and language barriers," Garcia explains. His lab members are used to hosting international fellows; they have learned to be patient with each other.
For example, in a recent question-and-answer session, Chumbimuni Torres was trying to understand "biogenic" as a scientific term. How is it different from organic, she wondered?
In the gamely attempt to break it down, Felhofer said, "It means it is generated by biological things."
The Microanalytical Chemistry Lab's work touches upon four main research topics:
Capillary Electrophoresis and Microchip-Capillary Electrophoresis is a novel technique that allows the fast separation of minute amounts of sample. With the support from the Office of Naval Research Global, Garcia's lab, the UTSA MEMS Lab, and the University of Sao Paulo (Brazil) have been able to develop a series of robotic prototypes to apply capillary electrophoresis for the remote analysis of chemical warfare agents.
Electrochemical Detection is one of the most convenient ways to quantify biological compounds after the separation step. Garcia's lab is working on different ways to rationally improve the selectivity and sensitivity of this detection method.
Interactions of Proteins with Nanomaterials is a critical project for Garcia's team. They are currently trying to understand how the nanoenvironment provided by certain materials can affect the structure and catalytic activity of certain proteins. They believe the outcomes of this project can impact how people design sensors, implants and drug delivery devices.
With the support from the National Science Foundation, Garcia directs a summer program that takes UTSA students to perform research (all expenses paid) to Brazil. The program aims to enable students to acquire unique scientific skills along with an exceptional cultural experience.