UTSA Gilman Scholars go to Belize, Cambodia, Italy, Spain this summer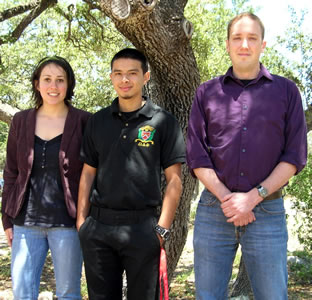 Share this Story
(May 25, 2011)--Four UTSA students are among the first summer scholarship awardees of the nationally competitive Benjamin A. Gilman International Scholarship program.
"We're thrilled that our students will be able to study abroad this summer with the help of the Gilman program," said Holly Hill, director of education abroad services in the UTSA Office of International Programs. "These students understand the value of gaining experience studying in a foreign country, and they worked hard to make it happen."
Six UTSA students applied for the summer Gilman scholarship program, which is open to U.S. citizen undergraduate students who are receiving federal Pell grants and planning to study abroad. Other Texas universities with scholarship recipients are Texas A&M University, 8, Texas Tech University, 2, University of Texas at Arlington, 2, and University of Texas at Austin, 10.
The UTSA winners include:
David Bernal, junior, Dallas, kinesiology, Italy, $1,500
Elle Farias, senior, San Antonio, physics, Cambodia, $4,000
Andrew Nicholl, senior, history and anthropology double major, Belize, $2,000
Tiffany Williams, senior, Sugar Land, electrical engineering, Spain, $3,000
Elle Farias will travel abroad for the first time this summer. Her trip to Cambodia will expand her international experience. Farias, a physics major with an international studies minor, picked Cambodia because it wasn't the typical study abroad location.
"It seemed very adventurous," she said, adding that with courses in international relations, this was a good way to determine if she wanted to add a political science double major to her studies.
Andrew Nicholl will study with UTSA faculty members Jason Yaeger and M. Kathryn Brown in Belize to learn the ins and outs of archeology fieldwork. The faculty-led study abroad program will investigate ancient Mayan civilization, visit archeological sites and spend four weeks in Belize while earning six credits in the study of anthropology.
"I've always been completely and utterly fascinated with history and archeology and seeing how we are all the same," Nicholl explained.
Tiffany Williams has done multiple internships with Raytheon, starting in 2009. They were gracious enough to let her do study abroad in Spain and then come back later this summer to continue her internship.
"I chose to study abroad because I wanted a chance to master Spanish, and the website showed promising results," said Williams. "The duration of my program is perfect because it allows me to study in Madrid half of the summer and the opportunity to continue an internship with Raytheon the second half."
To apply for a scholarship, visit the Benjamin A. Gilman International Scholarship website.